The market around us has changed a lot. Customers don't want to extensively search for answers to their questions, nor do they want to wait days for companies to answer a question. If they can't easily find the answer and can't ask the question easily, they start researching alternatives. If this happens, the chance of successful sales is drastically reduced. For a company it, therefore, becomes increasingly relevant to engage with potential customers directly through the channel of their choice.
This is where SAP positions SAP Service Engagement Center with the technology of SAP Contact Center to support the channels. The solution integrates into the SAP Commerce storefront and allows customers to initiate an interaction with a customer service employee through phone, chat, video chat, or one of the other channels available. The video chat functionality doesn't require any installation, lowering the bar for the customer to engage in a video chat session.
With such direct interactions, an employee can answer questions for the customer straight away and, if needed, even place the order for them.
SAP Contact Center Features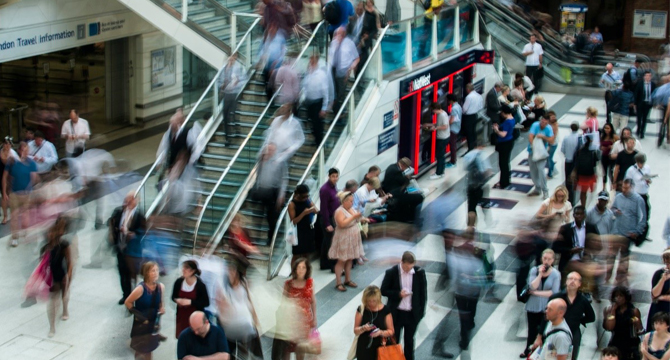 The SAP Contact Center offers high-volume customer engagement. How does this work? For one, it's built on the YaaS platform and allows for text and video chat and phone calls. More importantly, it eases out the process involved in omnichannel customer service through interaction management, ticket management, and order management. The SAP Contact Center provides for community interaction and reporting and analytics as well.
Optimizing Agent Productivity
With the Contact Center, omni-channel support and service ticket handling are a breeze due to the channels linked to work output, engagement based on current circumstances, and the fast access to communications, orders, and tickets. The SAP Contact Center utilizes smart routing and provides insights from analytics.
Enabling Multi-Session Contextual Interactions
Better your first-time fix rates for your field service teams by providing them with the data and tools they need, when they need it. Provide your sales agents with a 360-degree view of customers and enable them to personalize experiences. Benefit from features such as caller identification, simultaneous diversified communications, communications outlines, reason codes, and fast access to any connected business documents. Boost functionality by taking advantage of YaaS microservices and/or partner-added extensions.
Embedded Interactions Boost Customer Delight

The Contact Center allows agents to view the number and type of communications in the queue. It triggers a screen pop for automatic customer identification for familiar customers. This customer service tool makes it easier for the agent to manage phone calls within the customer's context. It also removes the need for computer telephony integration.
Better Performance with Multiple Chats
The SAP Service Cloud software can help service agents to engross themselves in different chat conversations at the same time, all within the framework of each customer. Agents can provide great service by first looking at the chat interaction in the Interaction Log to gain an integrated view of the customer's interactions. With SAP Service Cloud, you can easily embed the chat widget on your website to permit customers to receive help fast.
Real-Time Video Chat Sets Customer Satisfaction Right
Stay a step ahead of customer expectations by engaging in live video chat conversations with them to help with support problems or product inquiries. This feature helps your teams monitor video chat interactions in the Interaction Log to gain an integrated view of the customer's interactions. Install the video chat widget on your website without difficulty to permit customers to receive help fast. Convert visitors into customers by promoting marketing or product information to them with the InQueue video feature.
Analytics for Real-Time Insight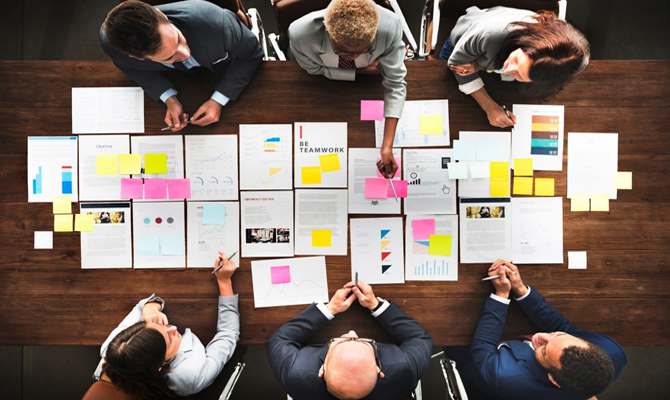 You need real-time statistics made available to you if you want to cater to the better-informed customers of today. With SAP Service Cloud, agents can readily check the availability of their colleagues and examine constant interactions managed by agents. This makes it easier for agents to also examine the amount of interactions in the queues.
Essential Analytics to Improve your Visibility
Interactions:
The analytics functions in SAP Service Cloud provide insight into the most up-to-date total list of interactions, the ongoing present-day interactions, and essential metrics such as waiting time and total duration.
Agents:
SAP Service Cloud provides all agent-related analytics in an orderly fashion. This includes name and current status, engagements underway, the most up-to-date amount of customer engagements managed - sorted by type.
Queues:
Receive analytics on the ongoing communications and the complete list of communications from the present day with SAP Hybris Service. Connect your service team to the Service Engagement Center and gain insights into the agents' present-day serving in queue and details on those available to manage interactions.
Embedding the Contact Center Functionality into your Business Processes
The SAP ECF is a group of JavaScript controls and APIs built upon the SAPUI5 client-side library. ECF permits you to readily and smoothly integrate the contact center functionality into your business processes.
ECF comprises the below-mentioned reference applications.
SAP ECF Agent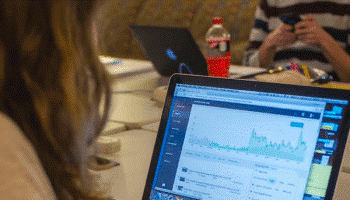 This is an application for an agent defined in the SAP Contact Center system. The agent can view and update the work status, review and revise their own presence profile, view queue analytics, log in and log out from queues, manage engagements, tasks, text and video chats, and calls, and pass on an ongoing chat or call to another agent.
SAP ECF Visitor
This is an application for chat users. With the application, chat users can create text and video chat conversations and view the queue information.
Steps to Activate the ECF Application as a Mash-Up in Hybris Service
The SAP C/4HANA and ECF Chat widget integration can be done through a mashup. Here are the four basic steps to activate an ECF application as a Mashup in C/4HANA.
Define a Mashup in C/4HANA
Activate the Mashup in C/4HANA
Enable Phone and Chat Activity in C/4HANA
Install the C/4HANA Desktop CTI Adapter
Defining the Mashup in C/4HANA
Prerequisites:
Contingent on your C/4HANA solution, you may be required to launch it in Microsoft Silverlight.
Procedure- Visit Application and User Management>Business Flexibility>Mashup Authoring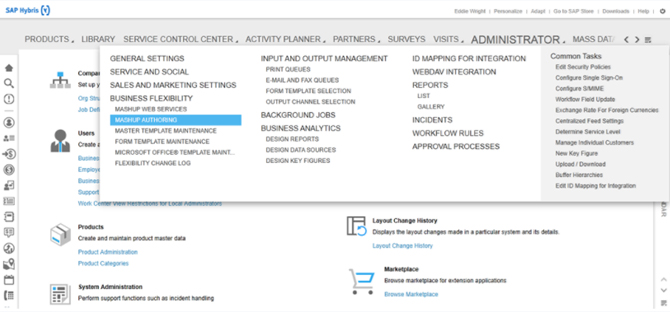 - Select New HTML Mashup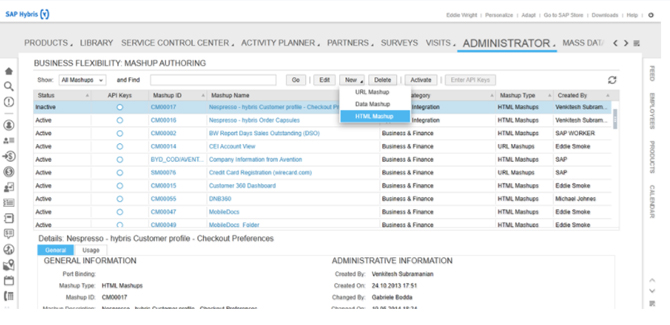 - Fill in the responses to the New HTML Mashup form to record the ECF Reference Mashup and click on Save.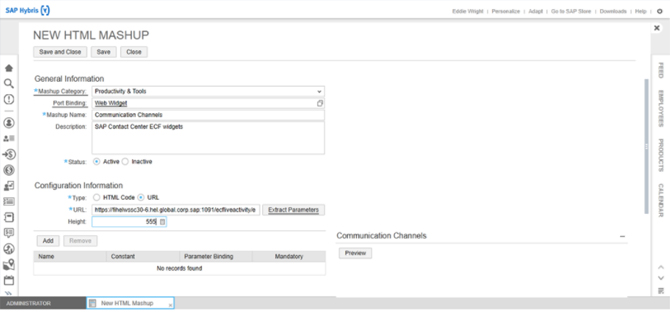 Initiating Mash Up in C4C:
Once the ECF Mashup is elucidated in C/4HANA, it requires activation in the Live Activity panel in C4C.
Procedure:- Visit Adapt>Enter Adaptation Mode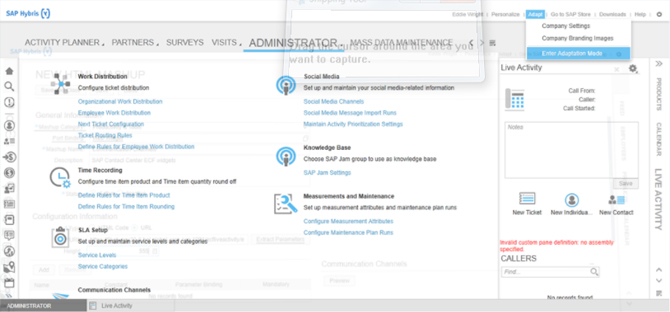 - In the right Panel, click Live Activity. A Live Activity panel will appear on the right. Then, click on the gear icon in the Live Activity panel and then click Personalize.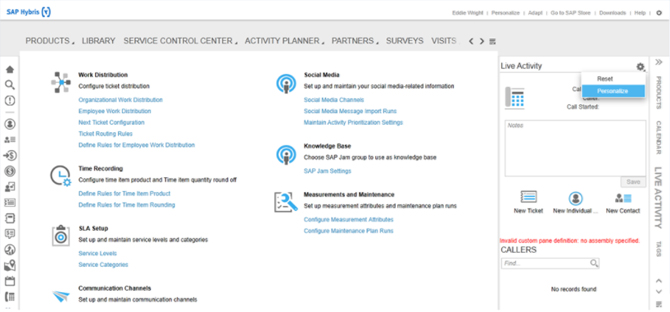 - A larger panel will then appear on the left that says Live Activity.
- Then, go to Personalize>This Screen: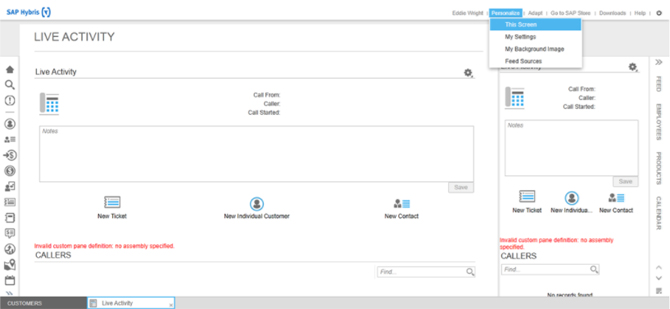 A Personalize panel will appear on the right side.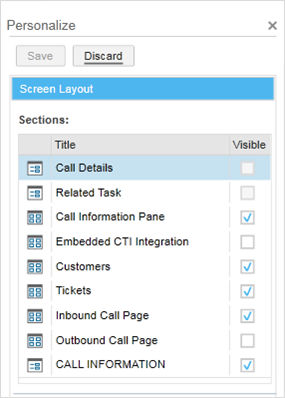 - In that panel, make sure the following items are set:
| | |
| --- | --- |
| Item | Value |
| Call Information Pane | Checked |
| Embedded CTI Integration | Not checked |
| Customers | Checked |
| Tickets | Checked |
| Inbound Call Page | Checked |
| CALL INFORMATION | Checked |
- Then, click the Save button.
- Click the Mashups and Web Services header below and the below-mentioned fields will show up in the Personalize menu.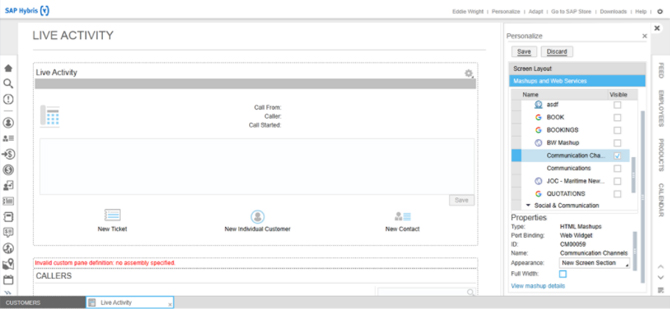 - Check the Communication Channels checkbox. Click the Save button at the top of this panel.
- Close the Personalize screen.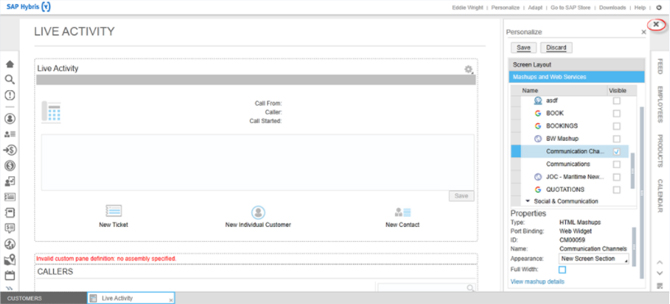 - Next, click on Yes to save the revisions when the Confirmation Dialog pops up: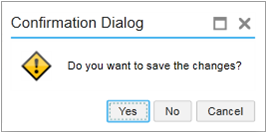 - Then, exit the Adaptation Mode by going to Adapt>Leave Adaptation Mode.

You can now leave the Silverlight mode and close your browser. When you log into SAP Hybris Cloud for Customer again, you will be able to view the ECF Reference Mashup in the Live Activity panel.
Initiating Phone and Chat activities in C/4HANA:
Based on your C/4HANA Solution, you may be required to launch the application in Microsoft Silverlight.
Procedure
Visit Business Configuration>Implementation Projects
Click on Edit Project Scope
Click on the Next button until you reach section 4: Questions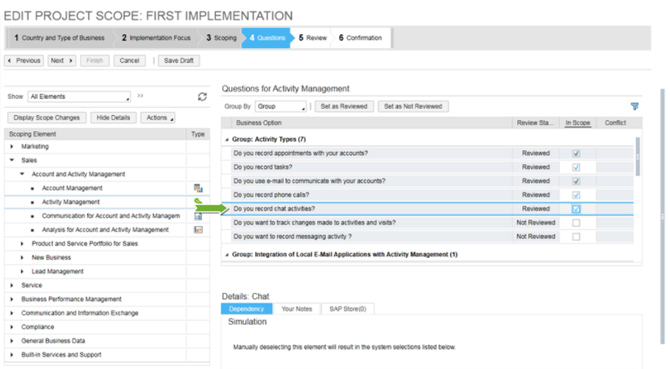 - Select the boxes for the following:
Do you record phone calls?
Do you record chat activities?
- Proceed to click Next and Finish.
Setting up the CTI Adaptor:
Procedure
Click the Downloads link in C/4HANA.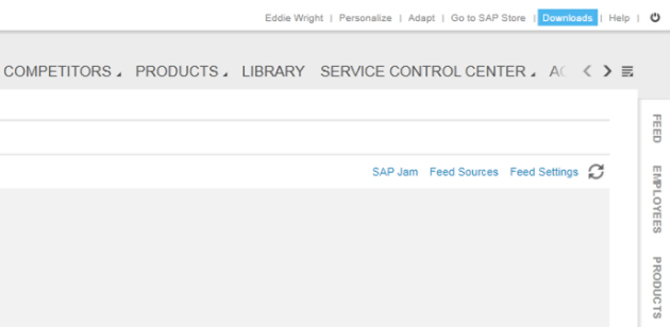 Choose the CTI Client Adapter:

- Then, run the downloaded installation file and follow the install instructions.
- Enable the CTI Adapter.
Conclusion
Overall, the SAP Service Engagement Center can be used to improve many aspects of your customer service, but it is most valuable when used to test and improve how you can achieve simple and personalized communication with your customers. Use it to best measure your customer service goals. But note, this is not a quick win. It takes time, testing, and training to build an improved customer service practice. Don't look for the quick and dirty win with the Engagement Center and the Live Chat; it's not there.