It's been said that collaborating with a major retailer offers lesser or moderately known brands with a wonderful chance to ensure that their products are accessible to fresh markets. This also translates to enhanced revenues. In fact, perfect product placement in large retail outlets is undeniably among the most important tools in the modern brands' kit, especially in the Fast-Moving Consumer Goods (FMCG) industry with a heavy reliance on modern trade sales channels.
Retail is an industry where minor changes can make a world of difference to brands. If you change the price, there's an impact; you change the packaging and there's an impact; you tweak the branding—impact.
In an industry where the smallest of modifications to factors such as product placement, position in shelf, and the ad spend affects profits to such a great extent, keeping a close watch on the execution has a similarly enormous influence.
In this blog, written especially for those who want to make their brands work, I break down the art and science of ensuring that the retail execution is such that it helps you be in control at all times.
Why the Typical Retail Execution Process Needs an Overhaul
If you follow the steps of a standard retail execution process, you would see a sales rep first planning his visit to a point of sale and then actually going on that visit—during which they will review the placement of products on the shelf, make a note of the pricing, and also take stock on the promotions in place for the concerned products.
The sales rep would then make a thorough report on their findings and discuss the salient points with the shop manager and then decide on the next steps. The cycle then continues when the sales rep plans the next visit to the same point of sale.
Functionally, everything is in place. But the required intelligence needed to operate better has not been gained yet. For instance, if a comparison is to be drawn between this particular point of sale and the others in the area, this sales visit cycle doesn't help much. If the objective was to gauge the effectiveness of an executed promotion on the sales of a product, this sales visit cycle doesn't help much either. Do you see why an overhaul needs to happen?
What's the Solution?
Yes, I knew you'd ask that question. So, here's the solution: SAP's Retail Execution Functionality or Perfect Store. Accessible as part of the SAP Sales Cloud solution, SAP's Perfect Store execution allows sales reps to convert qualitative audits into measurable objectives against thresholds right in the store, gain insights into store performance and retail execution metrics in real time, respond to problems as they occur, and consequently boost field sales efficiency.
Both the sales teams and the retail store can leverage the Perfect Store functionality to enhance productivity. The sales reps will also have in place all the right tools to better perform planning, preparation, execution, and analytics.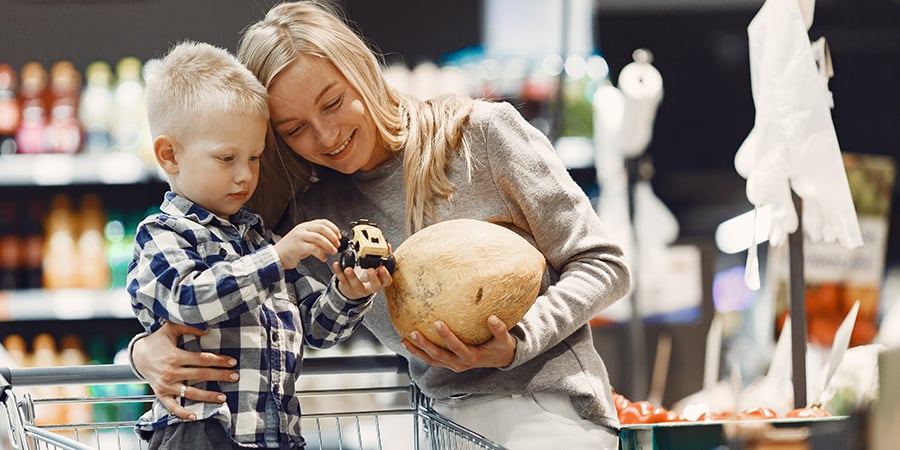 Modern consumers have unlimited purchase options, and their preferences keep shifting easily simply based on the in-store experience and the proximity to the right product at the right time and place. With SAP Perfect Store—top-rated in a leading analyst report on retail execution in 2019—sales reps can confidently meet consumer requirements after understanding specific customer preferences.
Retain that Customer
When consumers visit retail stores, they have a lot of brand options of any product to choose from. Just in case your product is not easily visible or accessible on the shelves, you might lose that customer then and there as they have plenty of other options easily available to pick from around them.
To gain a competitive edge in the cutthroat modern markets, businesses should lay out clear strategies to predict the demand of their products and decide on how to best make them available to the consumers. It also helps when management gets to keep tabs on critical insights that are vital for superior and smooth retail performance.

Steps to a Successful Retail Execution Strategy
Planning: Enables your sales reps to create the optimal visit route to stores based on your business and marketing goals.
Preparation: Helps reps prepare for their sales visits and audits. With product checklists and competitor information, reps can capture, store, and track critical information about every relevant store.
Execution: Helps you tailor and manage your consumers' entire path to purchase by offering sales reps full visibility into the potential customer's behavior when they approach shelves. This enables your reps to react quickly to your customers' needs and wants that, in turn, encourages repeat purchase and brand loyalty. With a solution such as SAP Sales Cloud, you can optimize your in-store strategy and on-shelf win rates every time.
Analytics: Enables sales and marketing reps to evaluate which promotions to go live with at any particular moment. Sales reps can use analytics to conduct product and competitor audits, use image recognition for shelf compliance, check promotional activities, and monitor perfect store KPIs.
SAP Perfect Store: Working with Engagement Maps
When a sales rep starts with a Perfect Store visit, they'll be guided with an engagement map created by their administrator. This map shows them all the points of engagement where the products are on display and need to be evaluated in each store. Each point of engagement has a list of objectives that need to be completed at each location.
Taking Action In-Store
With the help of SAP Perfect Store, the sales rep can fill in the survey quickly and easily and complete their tasks directly in the list. What's more, the solution also allows them to quickly access different tasks and surveys assigned to the point of engagement with a single click.
Once all the audits in the store are completed, clicking on the Visit Score will show the reps the store score as well as all scoring-relevant KPIs, which get calculated instantly. They can easily tell how the store and the metrics perform by the color codes. Reps can drill down further into the KPIs to view specific compliant and non-compliant products. These insights allow them to take necessary and efficient action in store to maximize their visit time and productivity.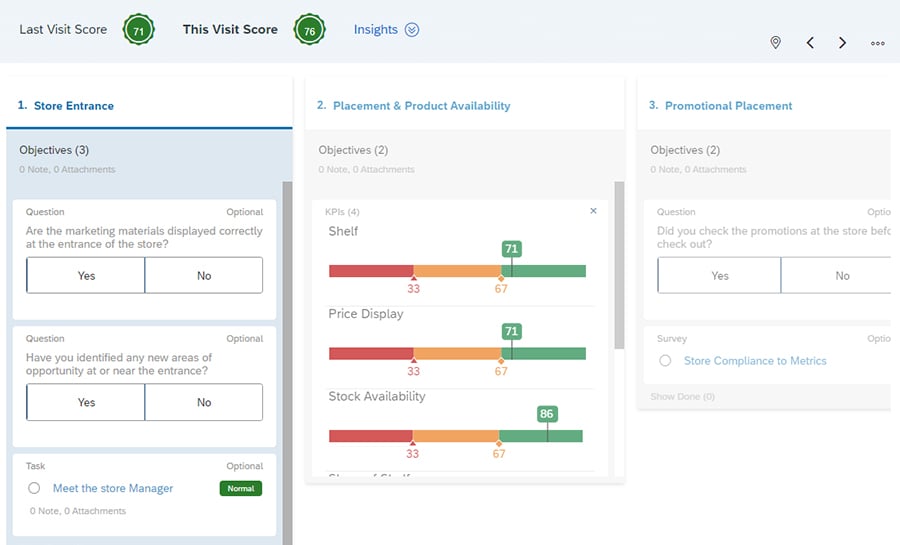 Integrated Map and Route Planning
The Retail Execution scenarios are based on sales reps' visit to the store. SAP Sales Cloud helps sales reps to accomplish planning and preparation of store visits in advance by leveraging the capabilities of integrated map and route planning. Sales reps can easily view, filter search store locations based on different parameters such as distance, frequency, stock level, and high demand location, and plan their visit in advance. The map offers a clear picture of all the crucial parameters of the upcoming visit, which allows seamless route change – whenever required - easily by drag and drop.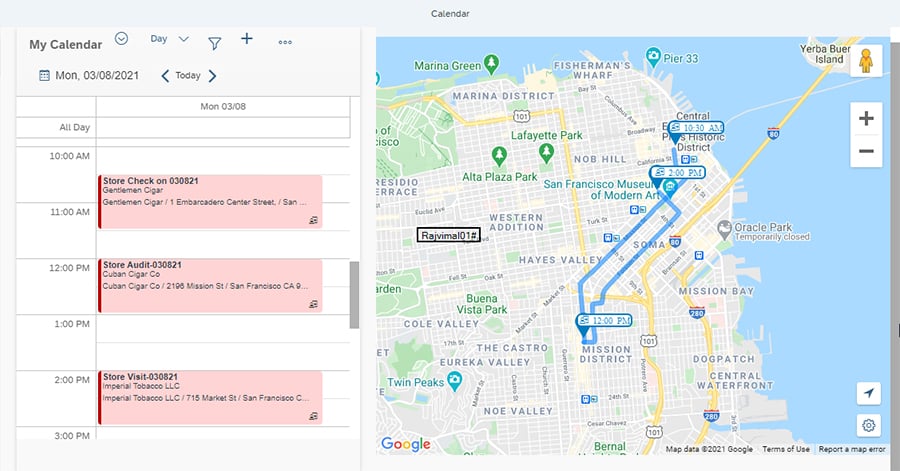 Creating the Perfect Store
There are 'n' number of scenarios where customers could end up buying your competitor's products instead of your brand – if say, your product is not available in the store or if the promoted product is not available prominently in the shelves of the store, and so on.
The idea behind "Perfect Store" within SAP Sales Cloud is to boost the consumer shopping experience, expand the brand appearance, and increase business pipeline and sales opportunities while also being in compliance with the customer. Since every business is unique in terms of their product LOBs, channels, specific requirements, demand and supply, and so on, a blanket approach will not work for all of them.
The innovative and effective solution to this issue is to create a Perfect Store where sales reps can create a unique and tailored visit to each store requirement, acknowledge that each store is different, and break the business down to the retail chain - or even to the store level - and then define in-store objectives accordingly.
Capabilities of a Perfect Store
Comprehensive map and calendar view
Route planning and visit optimization
Configurable visit/activity plan
In-Store task and survey
Competitive product pricing
Check in and check out
Promotion and product audit
Tracking of sales-specific KPIs and matrices
Online/Offline mobile capabilities
As per a recent study, Perfect Store execution helps organizations increase productivity by 15%-30% as a result of efficient and productive sales rep store visit, capturing of details via survey and notes, increased focus on in-store tasks, and so on. It not only allows easy information gathering in surveys, but also enables an immediate call to action based on KPIs and facilitates strategic performance analysis.
Back to retail execution best practices. What tips and tricks do you recommend to your fellow retail businesses and brands? Add them in the comments.