In marketing, the strings of success are held by your target audience. And if that isn't tricky enough, most campaigns being executed have multiple touchpoints and necessitate analysis-based follow-up. While many marketers keep their eye on these touchpoints, they miss out on checking up on the follow-ups. This disconnect leads to gross inefficiencies in the campaign management process and increases the marketing cost of course, there are solutions now designed to help people get particularly good at managing such pain points.
SAP offers a very mature "Campaign Automation" feature, but this functionality seems to be grossly underutilized by most SAP CRM customers. This blog will be an effort to highlight the benefits of campaign automation and how it simplifies multi-step campaign process leading to increased efficiency and effectiveness.
Objective and key features of campaign automation
Socrates would have thought something like campaign automation to be an anathema. It supports knowledge by rote, right? But then, marketers of today will agree that they need all the help they can get to make their overtaxed lives easier.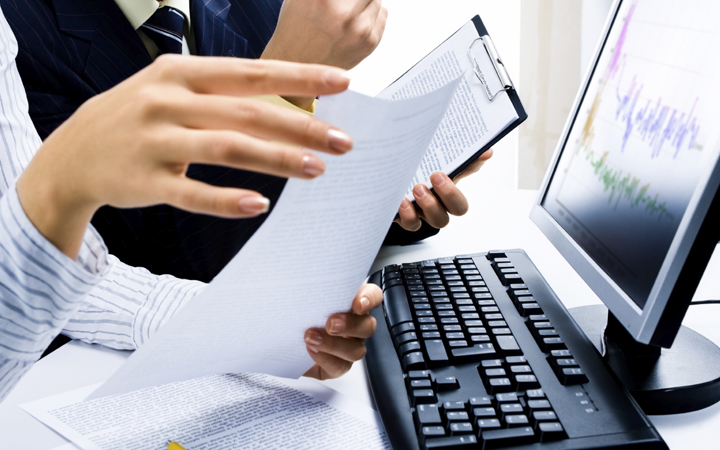 And that's why campaign automation is a massive topic with numerous documented techniques and strategies. So, how does campaign management help you? It enables you to define marketing procedures that can meet the individual requirements of each customer in real time. It also enables the automation of your multi-wave marketing campaigns across channels. One can also use campaign automation to model recurring campaign processes.
These campaigns can be arranged to advance automatically from the planning step in order to avoid the need for additional manual action. To achieve this, campaigns are modeled as processes in which customers or prospects flow between individual action points (campaign elements). The path a customer or prospect takes through the campaign process may depend on individual response.
Key benefits of campaign automation
The below-mentioned points encapsulate the numerous benefits of campaign automation:
Effective customer communication
Reduced human interventions
Automated business processes
Easier graphical modeling
Effective campaign monitoring
Reduced marketing costs
Process steps of automated campaign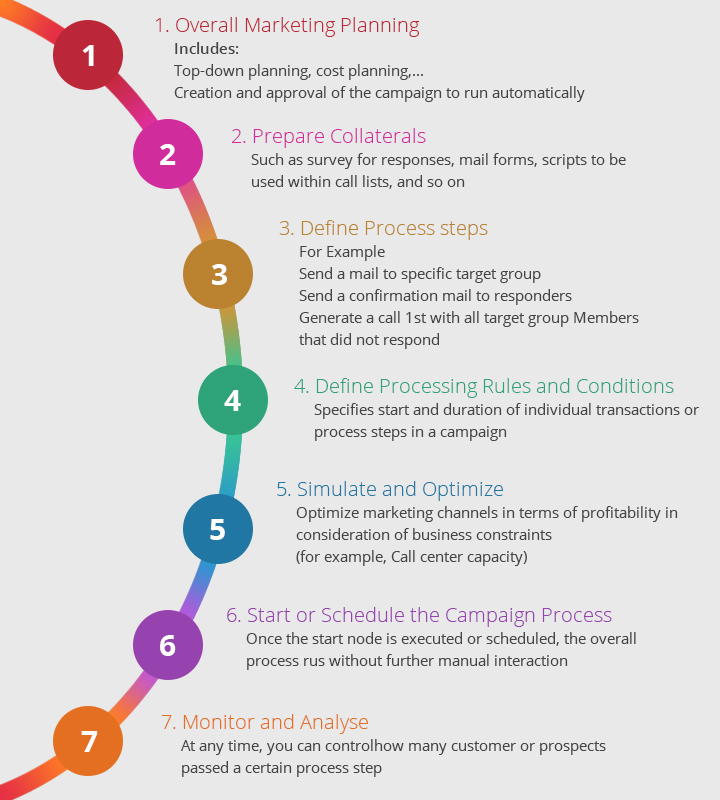 Setting up campaign automation models
You need to have business scenarios in place to start working with campaign automation models. These models can be set up by combining the below elements:
Campaign automation business scenario
Campaign automation key prerequisites
Campaign automation user interface
Campaign automation process elements
Campaign automation execution graphical model
Campaign automation workflows
Campaign automation monitoring
Let's take the example of a feasible business scenario:
A registration form to invite attendance to an annual trade show needs to be sent to all customers that attended the show last year. The registration form is sent via e-mail. It contains a link to a questionnaire asking whether the customer intends to attend the event. Based on the customer's answer, a particular follow-up step is triggered. For instance, a "Yes" by way of response from the customer would trigger a "Thank You" e-mail being sent to them. The contact details of the customers who chose the option "No" will be collected in a separate target group, which will later be sent a questionnaire to gauge their disinterest in being part of the event.
Key prerequisites for campaign automation
The prerequisites for campaign automation include:
| | |
| --- | --- |
| Key Prerequisites | Description |
| Java JRE 1.4 or higher | Installed Java JRE 1.4 or higher |
| Customizing settings | Customizing settings can be maintained by using the following path: SPRO > IMG > Customer Relationship Management > Marketing > Marketing Planning and Campaign Management > Campaign Automation |
| Created campaign | Campaign can be created by following the path SPRO > IMG > Customer relationship Management > Marketing > Campaign |
Campaign automation user interface
Create your campaign from the Web UI of SAP CRM: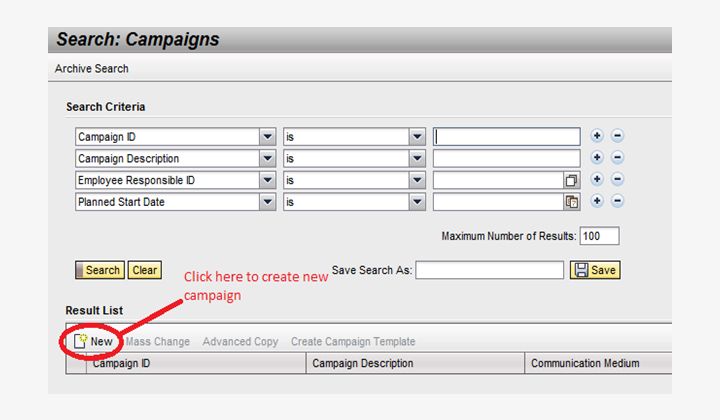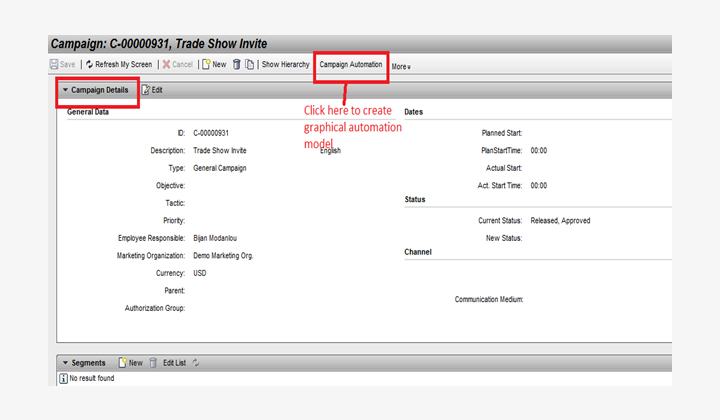 Campaign automation process elements
Campaign: Indicates the start node of a campaign. An arrow icon labels the campaign as an "Event-triggered Campaign."
Campaign Element: Indicates an action point within a campaign. Assignments are graphically displayed.
Decision Node: Regulates the follow-up steps that are executed when a response is received from a customer.
Optimization Element: Optimizes the campaign for profitability, taking business constraints into account.
Connector Node: Can be employed to bounce into an alternate "event-triggered" campaign.
Campaign Automation Execution Graphical Model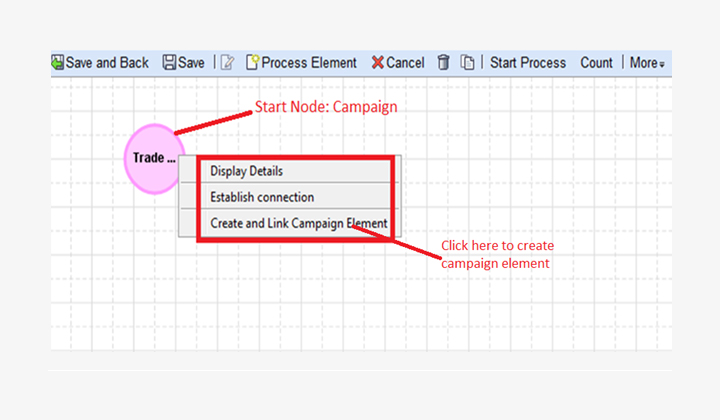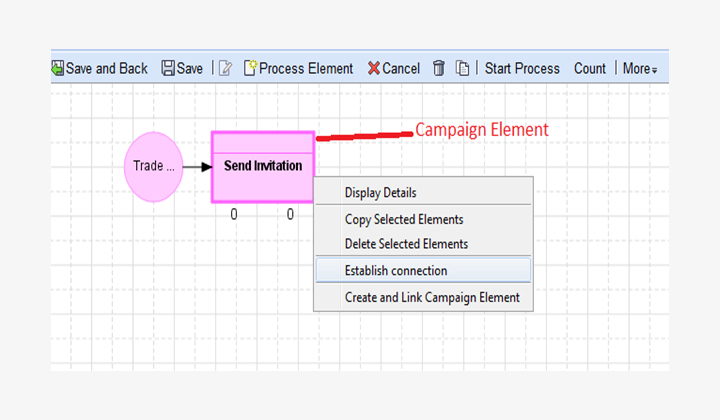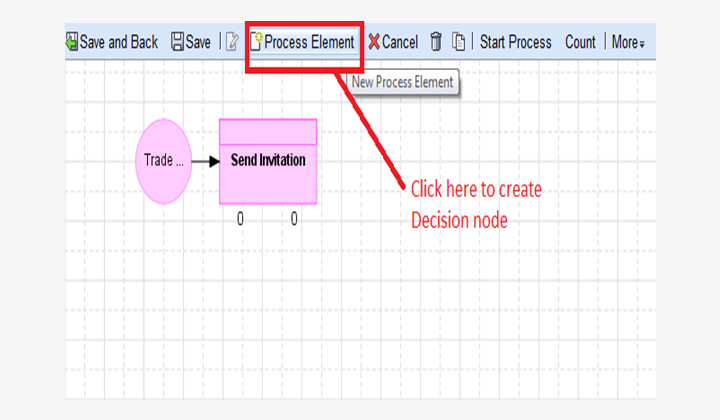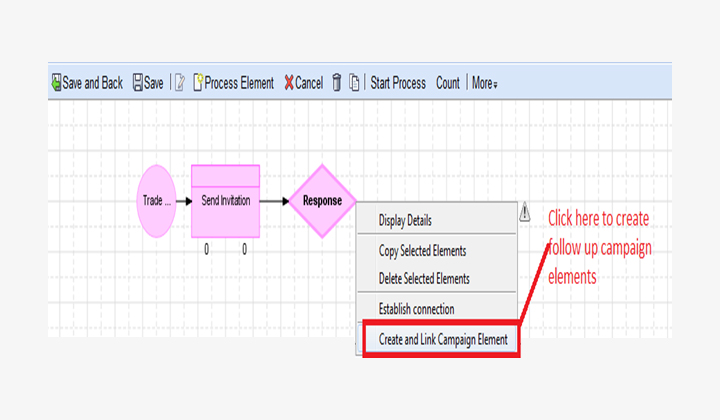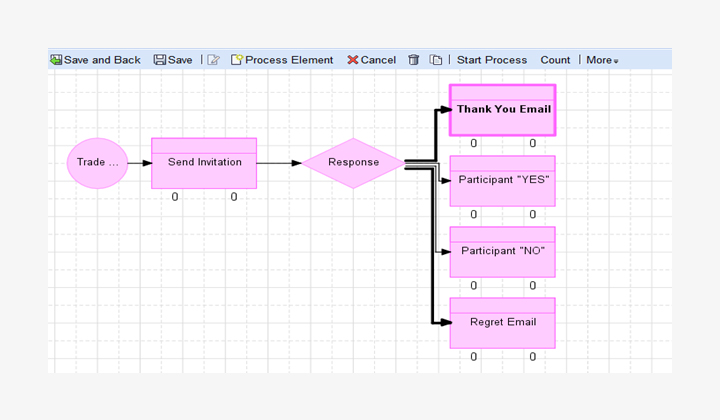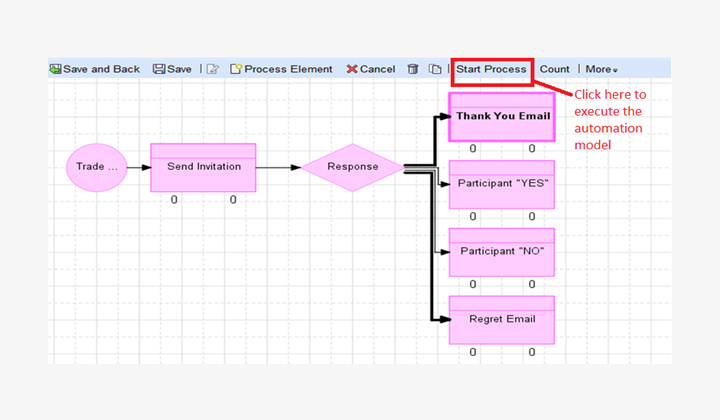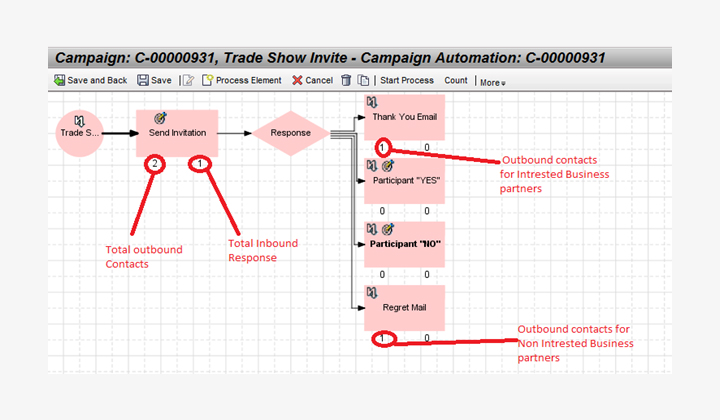 Campaign automation workflows
Each campaign element must have a workflow assigned
A set of predefined standard workflows are delivered
All workflows are defined in the SAP Workflow Builder
All predefined workflows are set up for the object category BUS2010022 campaign element
Each workflow has input parameters that are retrieved from the campaign element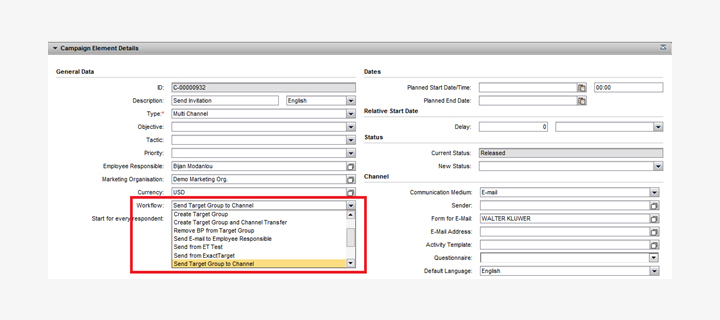 Campaign automation monitoring
The marketing contact list provides the business partners' information at a campaign level.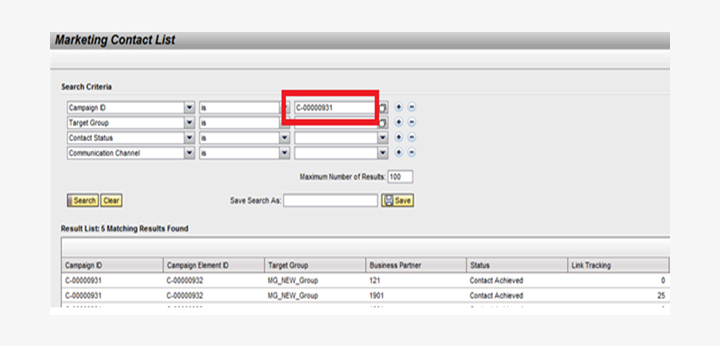 Marketing contact summary provides the details of the planned/actual/failed business partners at the campaign level.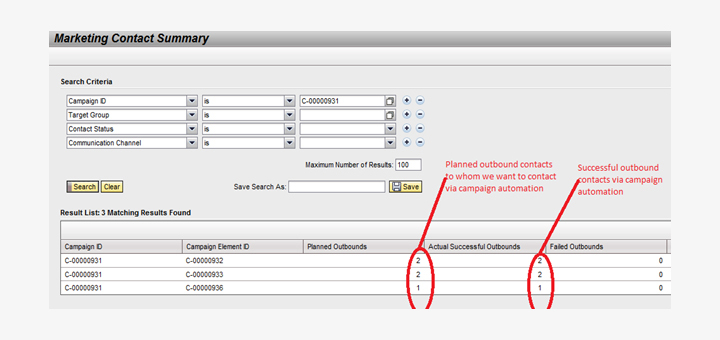 Customization steps for automation model
The following BAdIs can be used for enhancements:
BAdIs for campaign automation
BAdI: Enhancements for rules processing and interface to intelligence connector
BAdI to enhance campaign determination
BAdI for survey inbound handling (for example, specify transaction type for inbound activity)
Customizing Path for Accessing BAdIs
Automated outreach or anything even remotely similar to the concept would have been unthinkable to Socrates and Aristotle of yesteryears. Today, a single event triggers communications that can reach an audience spread across continents. Yet, the art of engaging with that audience is frequently forgotten. And maybe while concentrating to such an extent on reach, shouldn't we also invest more thought on how our communications will be acknowledged by the customers?
Actually, don't reply to that: We all know the answer to that one.