There are only a few industries where the lack of timely technology upgrades isn't threatening the business itself. That's a pretty scary thought, right? Well, don't panic just yet – 'cuz the best way to avoid getting into a soup due to this is to – yes, just get those essential upgrades done.
Industries that rely heavily on technology but need to pay equal "personal" attention to the most important "human aspect" of the business – its customers - are more likely to be hit by missing out on technology upgrades. Those of us in ecommerce – one of the industries that fall in the above category – are deemed to be at the highest risk if we ignore technology updates. It's pretty tough to envision going out of business, so let me get down to some good news for all of us ecommerce entrepreneurs and businesses out there.
Optimizing the customer experience with SAP Commerce 6.2
SAP Commerce 6.2 is the name given to the latest version of the very popular SAP Commerce platform. This latest upgrade enhances some of the key commerce features of Commerce further to optimize the customer experience, provide efficient self-service tools and a highly targeted experience for customers, and enable immediate and helpful customer service on the spot. Business users get improved tools to get a 360°-view of customers, provide personalized support and browsing experiences, and improve fulfillment processes with a single view of global stock.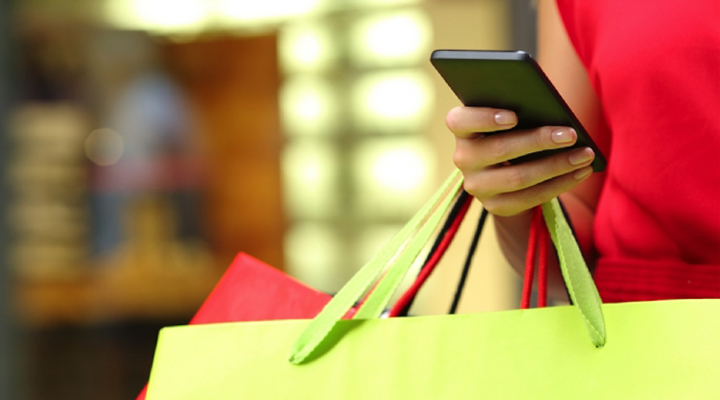 6.2 is clever, I can tell you that. Let's take a look at the new features it ushers into our world:
360°-Customer view providing customer support agents with more complete and personalized information on a customer
Customer self-service tools for Order Management improving customer experience and convenience
SAP Customer Experience Profile-driven Personalization and SmartEdit enhancements to bring about extraordinary experiences
Increased operational awareness in the data hub for better trace processing, metrics, and logging
Consignment tracking for the China Accelerator allowing customers to access real-time order tracking information
SmartEdit for Customer Experience
SmartEdit is a relatively new SAP Commerce Module delivered with release 6.0. The module provides a tool for managing web content in addition to the WCMS cockpit. Business users can now benefit from an intuitive and user-friendly way for creating and maintaining pages and components.
Figure: SmartEdit Architecture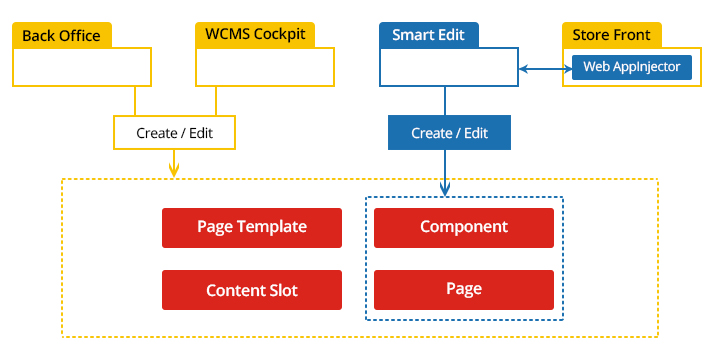 What's New
The following features are new to SmartEdit in SAP Commerce 6.2:
Support for the SAP Commerce Accelerator for B2B
Viewing and editing of page metadata
Creation of product and category pages
Addition restrictions to pages
Navigation management to support navigation components
Support of navigation components: Account Navigation, Category Navigation, and Footer Navigation
Improvements to drag and drop
Inclusion of SmartEdit in additional installation recipes
Personalization (based on SmartEdit)
Personalization — using SmartEdit — provides an integrated, user-friendly way of building experiences that are relevant to your customers.
What's New
The following features are new in SAP Commerce 6.2:
A mapper framework to provide integration strategies for data from external systems
Integration with SAP Profile based on the new mapper framework
Configuration of start and end date for customizations as well as the option to enable/disable customizations and target groups
Deletion of customizations and the possibility of retrieving deleted customizations from the BackOffice Administration Cockpit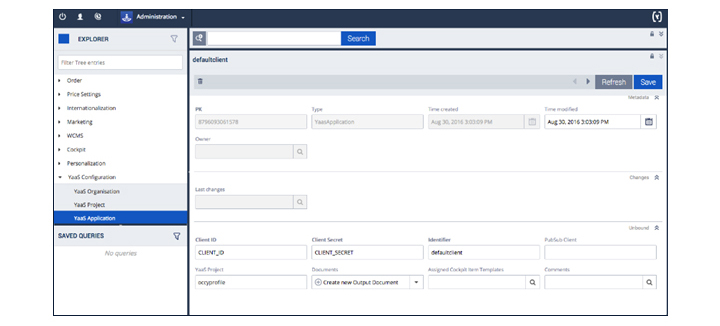 YaaS Configuration in Backoffice Administration Cockpit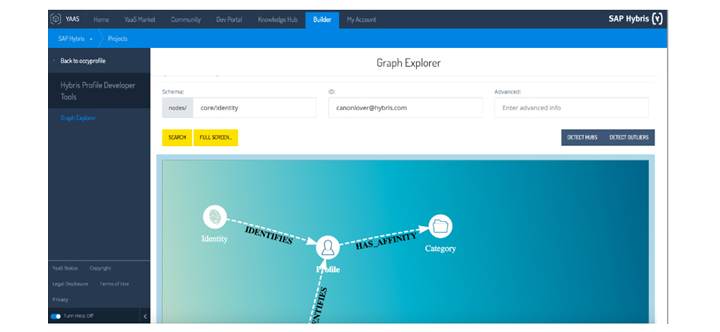 SAP Profile Graph Explorer
Search and Navigation
The Browse/Search part of the storefront customer journey should allow the customer to discover the product range, offering easily guided navigation to product descriptions, details, promotions, and recommendations. This upstream part of the customer journey should be engaging and informative without being overwhelming; it should encourage customers to use a combination of top navigation, left-hand navigation, facets, breadcrumbs, sorting, and search functionality to hone in on the products they need.
Search & Navigation capabilities allow you to configure how your costumers browse through category navigation and search for products based on keywords or facets.
What's New
The following features are new in SAP Commerce 6.2:
Solr upgrade to 6.1
Solr Cloud Support
Variant Grouping
Variant Grouping
Variant grouping allows you to group similar entries in search results. You then get to see displayed:
The main product image
Other variants that are available below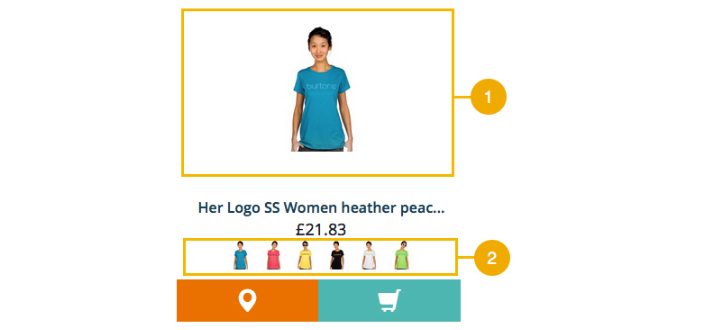 Promotion Engine
A promotion means here a single customer sales promotion. Promotions contain a rule set that defines the conditions for activation and a set of operations that determine the effect of the promotion once activated.
The Promotion Engine is an advanced promotion and coupon management system that allows marketers to easily create and manage layers of dynamic promotion rules and effectively control their behavior on the cart.
What's New
In this release, the following new features to boost the Promotion Engine's capabilities have been added:
Potential Promotions: Potential Promotions allows you to achieve higher sales by attracting and notifying customers about promotions that they are potentially eligible for
Coupon Code Give Away: Allows you to boost customer loyalty and increase sales by launching a promotion that grants a coupon as a gift to customers
Potential Promotion
Potential promotion increases the probability of customers to purchase other products or take advantage of promotions when they add items to the cart.

Coupon Code Give Away
When the customer purchases certain products through the storefront and a promotion rule with a free coupon code is activated, the customer is entitled to receive a free coupon code that can be used in the next purchase. The free coupon code is awarded when the customer confirms the order. The details of the free coupon code are shown in the Order Confirmation page and the Order Confirmation e-mail message.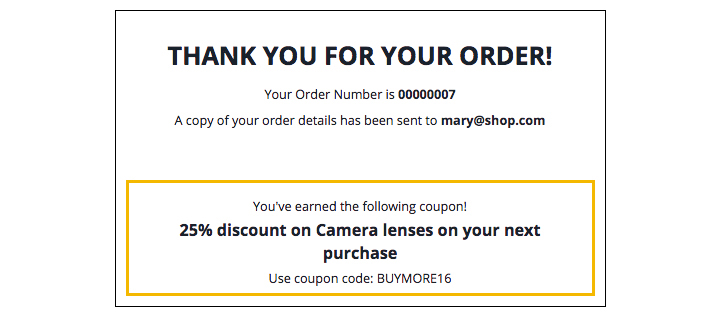 Order Management for SAP Commerce
Order Management for SAP Commerce is the bridge from your front-end commerce system to your back end. It has been designed to simplify complex omni-channel order scenarios by offering a set of Order Management capabilities built on the extensible SAP Commerce platform that let you take orders from anywhere and fulfill them anywhere.
What's New
The following features are new to SAP Commerce, Order Management:
Order Management Self Service Cancellation
ATP View
Return Label Generation
Features
Order Management Self Service Cancellation: Order Management for SAP Commerce now allows users to request a complete or partial cancellation over the B2C and B2B Accelerator store fronts.
Users can now:
Request Partial Cancellation
Request Complete Order Cancellation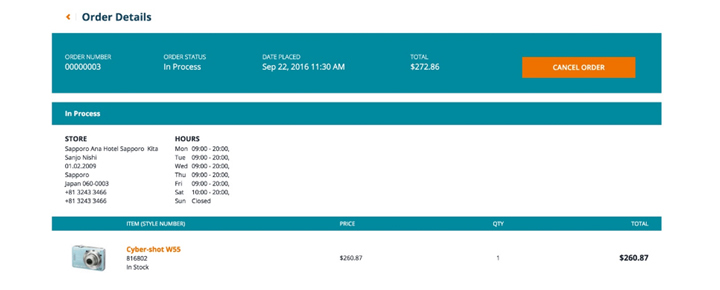 ATP View
With the introduction of ATP View, Order Management for SAP Commerce allows users to view ATP formulas and ATP values based on search criteria such as Base Store, Product, and Point of Service.
It is now possible to:
Search ATP Formulas
View active ATP Formulas based on search criteria such as Product Code and Point of Services
View Global ATP
View Local ATP
Return Label Generation
After a return is approved, Order Management for SAP Commerce sends a Return Shipping Label, via email, allowing the customer to ship the goods they want to return back to the store.
Return Labels are generated using the new Document Generation Service designed to provide a Media object from the given Velocity template. Other documents generated using the Document Generation Service are Pick/Pack and Shipping Labels.
Administrators now can:
Change Return Shipping Label email template using WCMS
China Accelerator
China Accelerator is a set of localized AddOns that can be plugged into the SAP Commerce Accelerator, a production-ready omni-channel commerce system that is fully customizable including support for web and order management. The China Accelerator includes functionality designed to address e-commerce needs specific to China.
What's New
With the 6.2 Release, you will get three new features in the China Accelerator. These features come with the following functionality:
Consignment Tracking: Allows consumers to track logistic information of consignments. Provides a generic interface for integrating logistic carriers.
Notification Framework: Serves as the foundation for sending notifications in the SAP Commerce Accelerator.
Back-In-Stock Notification: Allows consumers to register interested products for receiving back-in-stock notifications.
Configurable Products
In this release, SAP has added the multi-quantity support for configurable products on the SAP Commerce Accelerator product details page.
Features
Multi-Quantity Support for Configurable Products: The configurable products framework now passes over the quantity parameter to the configurator implementation from the product details page. Implementers can then leverage this parameter to add multiple products with the same configuration to the cart.
Data Hub
The SAP Data Hub is a powerful data integration and staging platform. It facilitates the loading of large amounts of data from one or more sources, processes it, then prepares it for delivery to any number of target systems. The Data Hub is the asynchronous integration platform for SAP Commerce.
What's New
Significant features and changes provided with the SAP Data Hub 6.2 are the following:
Increased Operational Awareness
Publication Filtering
Features
Increased Operational Awareness: In 6.2, the Data Hub includes more information to increase operational awareness.
Item Status Counts
The Data Hub provides item status counts for Load, Composition, and Publication activity to better understand the Data Hub processing metrics. The information can be accessed through the APIs, the BackOffice Data Hub Cockpit or JMX. The status count will continue to accumulate from the last server database initialization.
Load Activity: The Data Hub will provide Raw Items count by status (PENDING, PROCESSED, and IGNORED).
Composition Activity: The Data Hub will provide Canonical Items count by status (SUCCESS, ERROR, ARCHIVED, and DELETED).
Publication Activity: The Data Hub will provide the Canonical Item Publication counts by status (SUCCESS, FAILURE (Internal Error/External Error), and IGNORED). An error can result from either an internal error while creating target items or an error as the result from the target system. The Canonical Item Publication status will show a FAILURE, but counts will show the additional detail of either being an Internal or External error.
Dashboard: Displays the statuses by item type (Load, Compose, and Publish). The dashboard automatically refreshes using a configurable refresh time with a default of 5 seconds to get the latest set of data for the dashboard.

JMX: Provides all of the item counts with the ability to return the values by item type and by pool.
Publication Status Counts
The Data Hub provides counts for each publication action in terms of the number of items published and their resulting statuses. There are three new attributes exposed through the API:
internalErrorCount - Returns the number of errors generated during the Target Item creation process. For example, failure to resolve a transformation expression.
externalErrorCount - Returns the numbers of errors generated during the publication to the target system.
ignoredCount - Returns the number of items that were ignored in the grouping handlers.
Publication Filtering
In 6.2, a new optional filterExpression element allows extension developers to publish canonical items based on filter criteria. This capability can be used to prevent either some or all canonical items from being published based on filter criteria and set the canonical publication status. The filterExpression is a SpEL expression that must evaluate to a boolean value.
Backoffice Framework
Backoffice Framework (aka Next Generation Cockpit Framework) has been designed to allow powerful business tools and user interfaces - fully leveraging SAP Platform functionality - to be developed easily and in a consistent way. Consistency is assured by having one single business tool environment and web application and having domain specific functionality tied in as plugins.
What's New
Significant features and changes provided with the SAP Commerce 6.2 are the following:
Sass Support in Backoffice and Backoffice Modules
Grid View in the Collection Browser Widget
Advanced-Search-Powered Reference Editors
Features
Sass Support in Backoffice and Backoffice Modules: Sass - Syntactically Awesome Style Sheets - is a language that allows to style applications using extended css syntax. While it is fully compatible with plain css, it allows the developers to use variables, mixins, nested rules, and other techniques to write maintainable and extensible stylesheets.
Grid View in the Collection Browser Widget
For visually-rich objects - like Media or Products - the Collection Browser Widget offers the new mold that allows to expose the visual representations of the browsed elements. The new mold offers configurable tiles to display the image along with optional preview (important for large images) and a description.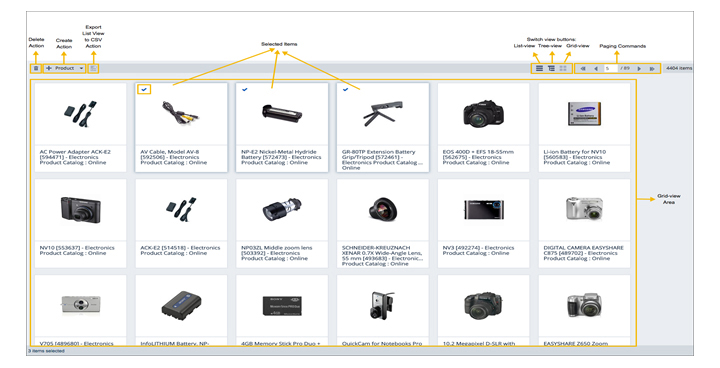 Advanced-Search-Powered Reference Editors
The mechanism of search in reference editors is now extended to use the Advanced Search Widget along with the Collection Browser Widget to allow the user to express queries of higher complexity and browse the results using any of the available molds (including the newly-introduced Grid View).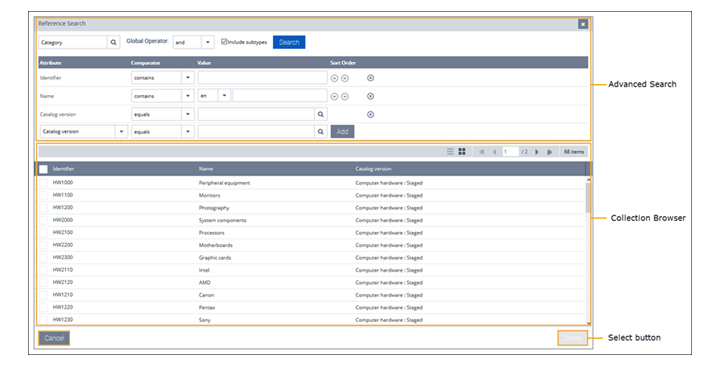 Platform
In this release, the Platform area includes mainly library updates and smaller improvements:
Spring Library Update - Library upgrades for Spring
Target Price Discounts - Calculation has been given Target Price discount values
Europe1 Product Price Settings at Entry Level - Europe1 product price settings can be overridden at entry level
SAP Commerce to SAP Commerce Sync logging added
Distributed Processes framework allows to implement status information
Details
Spring Library Update: In this release, Spring 4.2.x and Spring Security 4.0.x have been moved to keep up with recent Spring evolution. Please note that the Spring Security update may require XML configuration changes.
Target Price Discounts: In addition to relative and absolute discount values from this release, cart and order entries allow to add a new target price discount value. By this, the discount value specifies the target selling price rather than a (relative or absolute) reduction. With this release, it's becoming easier to implement use cases like "Sell for 9,99€ regardless of the current base price" since it relieves project developers to manually calculated discounts.
Europe1 Product Price Settings at Entry Level: Now, cart and order entries offer attributes to override Europe1 product settings like price, discount, or tax group. If specified, they take precedence over the regular settings stored at the product. This will ease the implementation of use cases when products shall be sold in special contexts, e.g. when within a bundle.
SAP Integrations: SAP integrations provide a framework for connecting the omni-commerce capabilities of SAP Commerce with other SAP products.
SAP Back-End Integration: SAP S/4HANA and SAP ERP
SAP back-end integration provides a framework for connecting the omni-commerce capabilities of SAP Commerce with other SAP products.
What's New
The following features are new in this release:
Support for third-party vendor sourcing when using Order Management for SAP Commerce
Increased feature parity between SAP S/4HANA and SAP ERP
Replication of promotion discounts from SAP Commerce to SAP S/4HANA or SAP ERP
SAP Back-End Integration: SAP CRM
SAP CRM back-end integration allows you to leverage SAP CRM functionality for use with SAP Commerce. In addition to CRM-specific features such as service contracts, service requests, service order, product registration, return order integration, and the Interaction Center, SAP CRM integration enables similar order management scenarios as SAP ERP integration.
What's New
The following features are new in this release:
Replication of business agreements
Return order enhancements for B2B orders
Complaints management from SAP Commerce storefront
Invoice generation from SAP CRM
Service contract enhancements
Service ticket enhancements
What do you think? Do you – like me – believe that version 6.2 makes SAP Commerce the strongest ecommerce platform out there? Let me know by dropping a line at info@knacksystems.com.
Please note: The features detailed in this blog post are based on inputs from SAP Commerce release documents and accurately represent the features available with the upgrade.