SAP introduced its C/4HANA system with a single user interface based on Microsoft Silverlight. Later on, SAP came up with another user interface by the name of HTML5, which is a more spontaneous and better-looking user interface than the previous one. With time, a great majority of the end and business users switched to the HTML5 user interface. And now, perhaps even more importantly, a third user interface is on hand in the SAP C/4HANA system, which is frequently made reference to as the Responsive User Interface — powered by Fiori.
Considering the present scenario, a question arises in many of our minds as to why a third user interface is required when we already have two readily available.
Consistent user interface across devices
For regular end and business users who work in the field, the power to alternate between desktop and mobile devices is crucial. A great user experience is every solution's goal. So, it is important to provide consistent performance and a coherent look and feel across devices, such as desktop, tablet, and mobile devices. The key to this challenge is Responsive User Interface powered by Fiori.
A responsive and flexible architecture permits the SAP C/4HANA system to run on desktops, tablets, smartphones, and hybrid devices. As users shift across devices, the responsive user interface accordingly makes room for the resolution, image size, and scripting. In this manner, end and business users can go on with their business in the manner they want, irrespective of the devices.
Features of Responsive User Interface
Recent History
Witness a more up-to-date experience while searching and getting back freshly accessed business objects in the various work centers with the latest Recent History tab in the navigation menu. Recent History records all the current business objects accessed and showcases it in a distinct record for fast access. Recent history tracks all the standard and custom objects. You can opt to view all objects or filter by particular objects.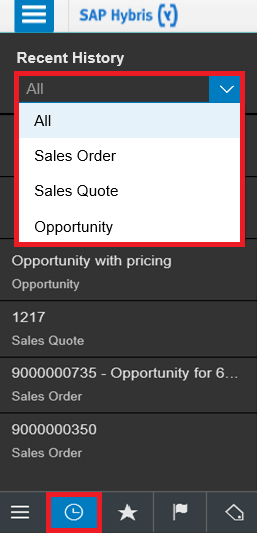 Advanced Search Filters for Smartphone
Using the responsive user interface, you can have the advanced search filters ready to use for records on smartphones. You can describe the filter conditions that fit your business requirements on any record where advanced search is available.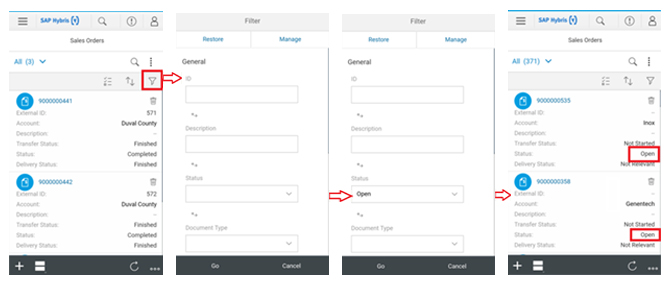 Date and Time, Account, E-Mail Context, and more available for Quick Create
You can pick a time period on the calendar and promptly generate an appointment, telephone call, or a social call for that date and time. Likewise, you can pull up accounts, E-mails, Install Base, and much more. This boosts output by lowering the number of clicks to create an activity for an exact date and time, account or Install Base, and so on.
Combination Charts
A chart that combines the features of the column chart and the line chart is a called combination chart; these charts are available only in the Fiori Client.
Combination Charts are useful when you want to show the relationship between different data points using multiple visualizations in one chart. For example, you may want to view the expected revenue and forecast data in the same chart. A combination chart displays expected revenue in columns and forecast as lines on top of these columns.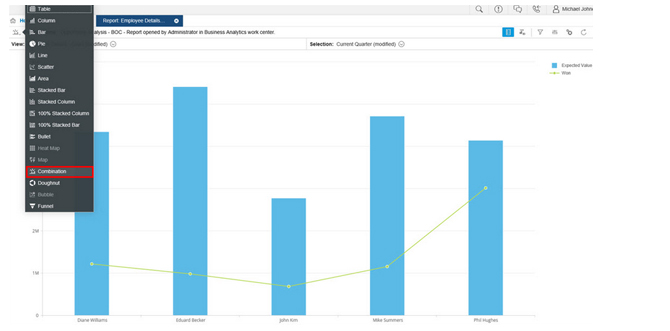 Show Description of Selection Values
You have an option available to see the descriptions of Selection values in the Fiori client. You can also personalize this setting and make it default for your selection. Therefore, every time you open this Selection you will see the description and not the ID.
In the below figure, if your Status description is "01," you may not know what exactly it stands for - if, however, the description is "Active," you can understand your report better.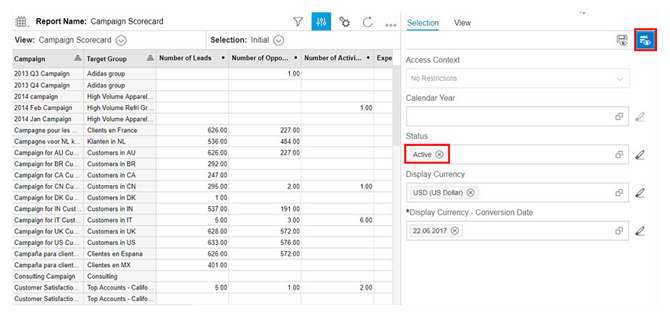 Personalize Table Column
In the Fiori User Interface, you can adjust table columns through personalization. This action is ready for use for both administrators and end users. As an administrator, you can define a format and share it with all the end users; however, the end users can override your format and save their personalization. This way, it helps end users to manage their data as they wish.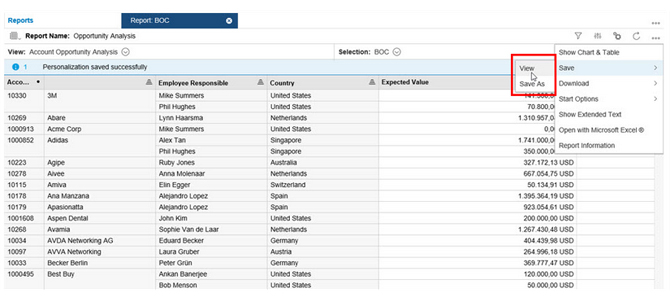 Conclusion
The SAP C/4HANA Responsive User Interface provides a consistent and unified user experience, regardless of whether you are working in the office, checking email on your tablet, or scanning real-time customer insights on your smartphone. The solution provides a consistent and powerful user experience anytime, anywhere, so sales and service professionals are always prepared for their next prospect meeting or service inquiry. Thus, switching to an SAP C/4HANA Responsive User Interface powered by Fiori is a huge advantage for companies that have teams traveling to designated territories or working on service requests in the field. The solution is adaptive and the use of the metadata approach renders the same information available across different devices.