Activate is the new generation Agile methodology for SAP implementation. It provides an effective and interactive approach that puts business users in the driver's seat. This methodology allows businesses to get access to new and differentiating capabilities and the flexibility to innovate when and how they choose, granting them clear competitive advantages.
Activate can help implement SAP C/4HANA and S/4HANA cloud projects very effectively with quick turnaround time, thus helping businesses realize the benefits of cloud solutions within a few weeks rather than months with the traditional waterfall approach.
Activate is more interactive and iterative so that there are no unpleasant surprises presented to the business users who get actively engaged throughout the implementation. This helps business users better leverage cloud capabilities to quickly gain business value.
Activate is true to its name. It's like switching on business processes in the SAP cloud platform and instantly starting to leverage them. At Knack systems, we leverage Activate Methodology for rapid deployment of SAP C/4HANA and SAP S/4HANA.
Current situation in IT and challenges faced with the Waterfall approach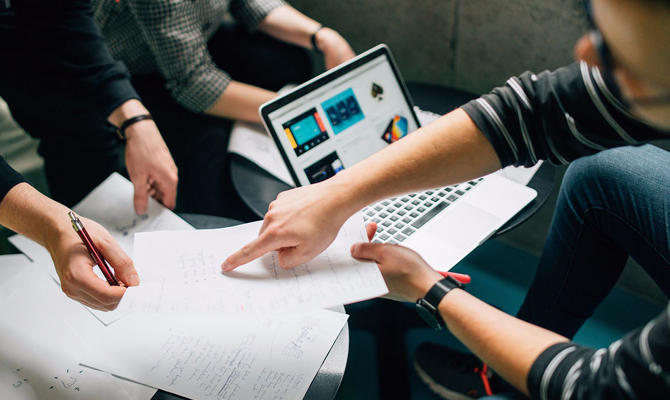 Traditional waterfall methodologies are not very effective in implementing Cloud projects.
One of their major drawbacks is their traditional approach to requirement gathering. In my opinion, gathering and documenting requirements in a way that is meaningful to a customer is often the most difficult part of software development. Customers may sometimes know the desired outcome only at a high level but need guidance to break the high level requirements into their more detailed aspects that are needed to document a blueprint. In addition, customers are not always able to visualize an application from a requirements document. Mockups can help, but there's no question that most end users have some difficulty putting these elements together with written requirements to arrive at a good picture of what they will be getting.
Another major drawback of the Waterfall approach is that, many a times, the delivered end product may not be liked by the customer. Due to typically month-long processes in the traditional Waterfall approach, customer/end users would not be able to see the system until the testing phase, which could be 3-6 months after the blueprint phase. Lack of ability to showcase the actual system in an early phase could lead to lack of solution acceptance/adoption.
Current Business Expectations in IT Project Deployment - Purpose and Goal of SAP Activate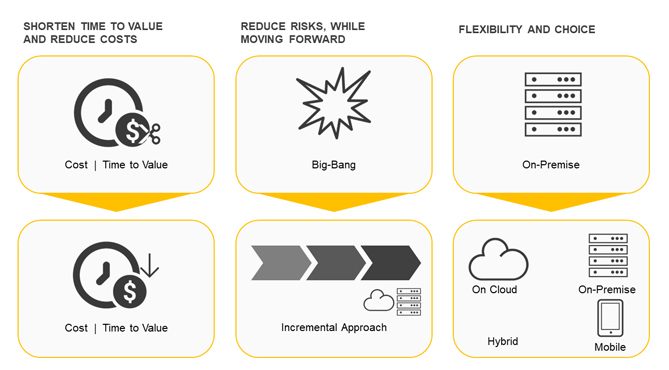 Shorten time to value
Expectations have changed drastically today and businesses look forward to achieving value via quick digitization of their processes.
As mentioned earlier, Activate Methodology helps organizations to implement SAP Cloud projects with quick turnaround time. This way, businesses don't need to wait for months to realize value from the projects. Activate can help them realize that value by digitizing the business processes within just a few weeks and via incremental build sprints.
Reduce Risks
As stated earlier, one of the major risks in project implementation using traditional methodologies is the lack of solution acceptance. In addition, from the Project Manager's perspective, projects may end up running over budget and time. To reduce these risks, one of the milestones of Activate Methodology involves multiple walkthroughs during the Realization phase.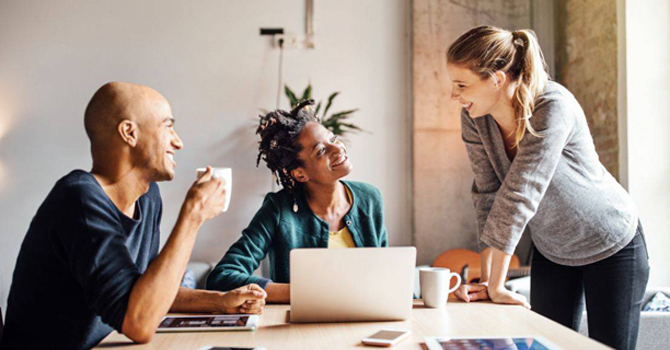 Activate Methodology is more interactive with the business throughout the lifecycle of the project. The build cycles in the Realize phase are incremental. Also, once the solution walkthrough demos of the live system are performed, feedback is provided, which helps the system to be fine-tuned further. This leads to a reduction in risks and increase in user adoption.
Flexibility and Choice
Businesses need more flexibility today to compete in the market, and they often seek a digital solution that is most flexible to accommodate the market dynamics.
Activate Methodology provides greater flexibility and can be leveraged for Cloud, On-Premise, and Hybrid projects with the same efficiency.
SAP Activate accelerates implementation journeys with these principles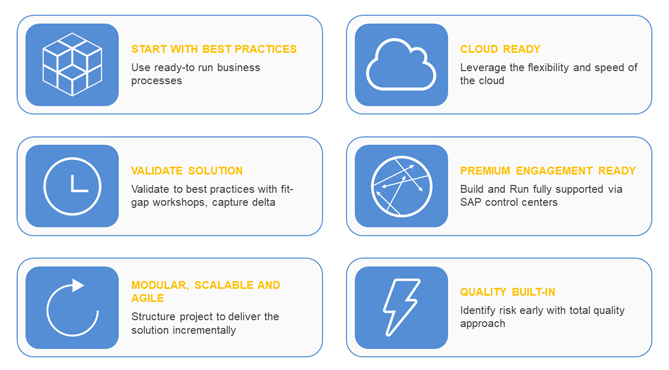 Start with best practices
Activate Methodology gives customers a quick jumpstart and reference solution to start the project. Its best practices have been built over a period of time with the processes that are considered as benchmarks in the industry. This provides an opportunity for customers to align and improve their processes with industry benchmarks in very little time, use them as a base, and then build on top of that.
Cloud Ready
Activate Methodology leverages the speed and flexibility of the cloud by using the cloud tenant for fit-to-standard workshops. So, Activate starts with a cloud working system to demonstrate best practices right from the beginning of the project.
Validate Solution
The beauty of Activate Methodology is that it has an entirely different approach versus that of traditional blueprint workshops. Instead of including a step for noting down requirements, Activate provides a more consultative approach called Fit-to-Standard (I've mentioned this one before). So, it turns out to be more of a validating solution for customer needs and helps in getting the system ready relatively quickly as compared to when you need to invest additional time just to take down detailed requirements. This is the fundamental change in approach that it brings in comparison to historical methodologies.
With Activate, you have two types of workshops: solution validation workshops and delta design workshops. Solution validation workshops mostly revolve around validating standard best practice processes and making a note of configuration values.
There may be some percentage of customer business needs that may not be met with standard processes. Delta design workshops are conducted to address just these needs. The beauty of the Delta design workshop approach is that the gaps are prioritized and implemented in sprints.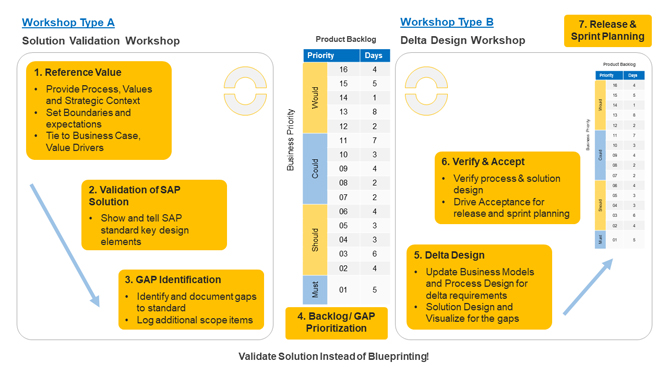 Modular, Scalable, and Agile
Activate structures the projects in phases to deliver solutions incrementally. Projects can be scaled up and down quickly. In Agile project delivery, the way the Realize phase is run differs from how it is in the traditional approach. Activate Methodology uses an iterative, incremental approach that applies short cycles with customer feedback in each cycle. This is quite different from traditional methodologies, where we have the business participate in blueprinting activities and hand off the blueprint to the IT team to realize the functionality with minimal or no additional input until very late in the project. The business is brought back to participate only later during user acceptance testing. With Activate, the business involvement is continuous and users are involved in all iterations.
Quality Built In
Quality is weaved into Activate Methodology. Each phase starts and ends with a quality check called quality gate, at which point the solution and deliverables go through quality checks. There is continuous focus on testing processes and integration during the Realization phase.
Delivering value throughout the project lifecycle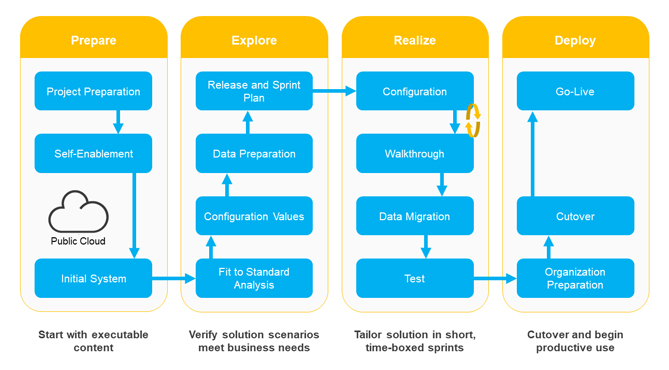 Activate Methodology structures deployment in just four phases to keep you in control of your systems. The core of the methodology is that the project starts with the Prepare phase and goes into the Explore, Realize, and Deploy phases.
Prepare – Starts with a handshake between sales and delivery teams. The sales team provides the SOW, scope, and details of the discussions during the pre-sales cycle. The business benefits that the customer organization needs to achieve are also noted. Initial preparation and project prerequisites are worked upon. The project kick-off meeting is conducted to bring all stakeholders on the same page. The presentation would include the high level plan, scope, dates of important milestones, team details, governance structure, workshop schedule, and next steps. Cloud tenant provisioning is also performed to have the system ready for fit-to-standard workshops in the Explore phase.
Explore – The purpose of the Explore phase is to analyze the standard cloud system best practices to meet business needs. Two types of workshops are conducted. One is Fit-to-Standard and the other is Delta Design.
Fit-to-Standard workshops include the system demo of standard solutions. They do not aim to educate or train business users but strive to capture configuration values and identify GAPs. On the other hand, Delta Design aims to explore the GAPs further, prioritize them, and then come up with a backlog and a sprint plan.
Realize – This phase includes the actual configuration, development, integration, and testing of the solution in incremental build sprints. It includes extensive testing, including integration and user testing, and preparation of data migration templates. The best part about how Activate approaches this phase is how it engages with business users extensively, conducts solution walkthroughs of the built system, and then fine-tunes further based on business feedback. This approach ensures effective solution adaptation by business.
Deploy – In this phase, the production environment is setup, the cutover activities are performed, the solution extension is deployed on production, and the production system is made live for business users to start using the system. Hypercare support is provided as per the SOW to help resolve any go-live issues quickly.
Desired outcome of successful project management and conclusion
At Knack Systems, we have a track record of not only delivering projects on-time and on-budget, but also of ensuring that the solution we deliver meets—if not exceeds—the expectation of the business users. We have achieved successful rapid deployments of multiple SAP cloud platform projects leveraging the Activate Methodology.
Activate methodology is simple, modular, and agile and is the successor of ASAP and SAP Launch methodologies. It is designed to support a broad range of SAP solutions including, but not limited to, SAP Cloud for Customer, SAP S/4HANA, SAP Business Suite on-premise, SAP SuccessFactors, and SAP Ariba.