With a powerful and effective combination of expertise in business as well as SAP BI, Knack Systems helps customers to design transparent and measurable processes in finance and operations. Being versatile and well-versed in SAP ECC, SAP BW and SAP BO, Knack Systems provides customers with accurate reporting and visualization of key performance indicators; in an intuitive, easily accessible environment.
Knack Systems' Analytics team includes consultants who are certified and experienced in SAP BW as well as other ETL and OLAP tools. With a technically sound team and adherence to SAP Business Intelligence (BI) practices, Knack Systems offers implementation, upgrade, maintenance, and management of SAP BI solutions to help enhance business performance.
Better ROI, measureable business performance improvements, and increased profit margins are the expected outcomes of Knack Systems' SAP BI analytics solutions.
Knack Systems' Analytics Services include the following:
Implementation, Integration, Architecture, and Content Enablement
BI Upgrades, Migrations, and Support
BI Reporting Strategy and Roadmaps
BI Center of Excellence
Design and development of SAP Business Warehouse including Extractors, DSO, InfoProviders, InfoCubes, InfoSets, MultiProviders, Master Data, and Queries
Analytics usign SAP Business Objects (BOBJ) by leveraging Design Studio, Dashboards, Visual Intelligence, Predictive Analytics, Information Design Tool, WebIntelligence, Explorer and Exploration Views, Crystal Reports, Central Management Console, Portal Integration, SDK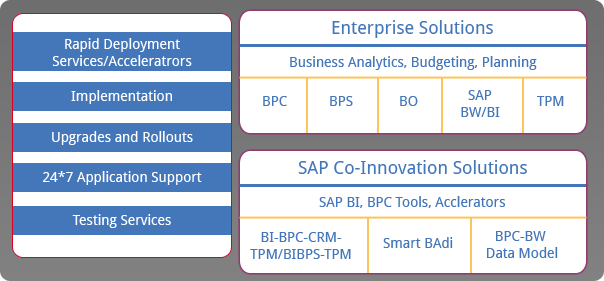 Knack Systems helps organizations to streamline their planning, budgeting and forecasting processes aligning it with their corporate strategy and driving the organizational behavior towards achieving corporate goals. Using SAP's various planning solutions – BPS, BPC and Integrated Planning (IP) – and a team of strong business and technical experts we are able to improve agility as well help organization to achieve regulatory compliance. Knack Systems is the perfect partner that helps customers to model potential business strategies aligned to dynamic business scenarios, and embark on a course of action that maximizes value creation.
Knack Systems' Planning Services include the following:
Profit and Loss Planning:
Revenue Planning
Direct Expense Planning
Direct Labour Planning
Over-heads Planning
Operations Planning
Human Resource Planning:
Standard Hours Planning
Staff Allocation Planning
Staff Compensation Planning
Salary Expense Planning
Sales Planning:
Target Oriented Sales Planning
Planning at various levels viz. Head Office, Customer, and Product
Both Bottom-Up and Top-Down Planning Approach
Knack Systems' team is versatile and well-versed with all these analytics and planning tools:
Planning and Consolidation: SAP BPS, SAP BPC 7.5 and 10.0 and Integrated Planning
ETL: SAP BW, Data stage, BO Data Integrator, SAP HANA
Reporting: SAP BW, Business Objects, EPM – BPC
Database: Oracle, DB2, Sybase, SAS, SQL Server
Data Mining: BW, APO