Digital changes the world and offers new opportunities – and requirements – for businesses in all industries. To run ahead, you need to be able to offer new services, explore new markets and better focus on your customers. Don't be held back by outdated enterprise systems that can't support new business models and processes. What's needed is an intelligent ERP system that supports transformation and delivers modern, intelligent capabilities that will deliver instant value and grow with your business.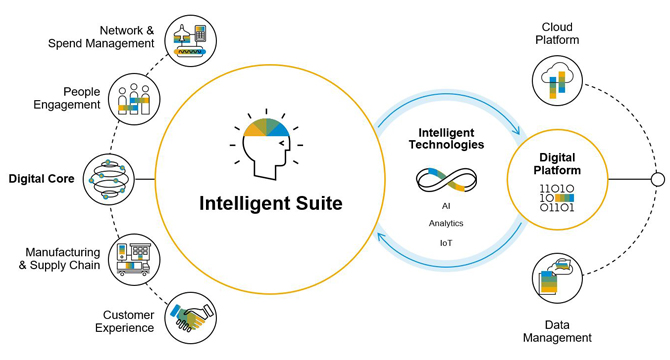 SAP S/4HANA Cloud – the intelligent ERP
SAP S/4HANA Cloud is taking ERP into the digital age. It is the intelligent cloud ERP from the trusted market leader that delivers the latest innovations and unparalleled industry expertise. With SAP S/4HANA Cloud you have the confidence to grow and change at any speed, with a real-time view of your business and the ability to act instantly – and wisely – on that insight.
Make ERP Intelligent:

Intelligent ERP acts as your co-pilot, eliminating repetitive tasks and helping you focus on what's important, by making intelligent suggestions based on business patterns and employee behaviour
Deliver instant value:

Operate at cloud speed and ensure all your global sites get the latest best practices, innovations and updates – automatically and regularly.
Ensure business impact:

Drive continuous transformation and create differentiation with an ERP that is simple to use, configure and extend.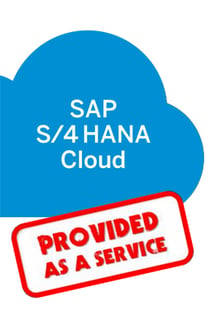 Impactful
Drive business results with ERP that is simple to use, configure and extend
Intelligent
Digital age user experience and assistance with Co-Pilot
Actionable insights with analytics
Next generation automation with machine learning
Instant
Adopt the latest best practices, innovations and updates at cloud speed
The Three Dimensions of S/4HANA Cloud
1. EFFICIENCY
SAP S/4HANA Cloud can help businesses navigate a course of action, deploy resources and execute strategy to achieve objectives by the most cost and time effective route. This value lever emphasizes the new, unseen speed of a digitized core underpinning every business process.
In the past, even simple requests, or analysis, required time-consuming batch processing or transactions. For instance, simpler reports could be processed in 30 seconds, while more complex reports might have taken days. With the digitized core, in-memory technology means wait times can be dramatically reduced to either a few seconds or just minutes respectively, regardless of the complexity of the information.
2. EFFECTIVENESS
With real-time analytics, in-memory database and instant insights, SAP S/4HANA Cloud improves prioritization.
If you automate a large amount of processes, some may require more careful human interaction, or exception handling. In this case SAP S/4HANA Cloud proactively notifies the affected employee with a signal for action. Within built analytics, it identifies patterns and only relevant signals are made visible to the user – we refer to this as exception handling.
This eliminates the multitude of distracting and irrelevant signals users may have received in the past on previous legacy systems.
This value lever provides only relevant action for the user, enabling them to complete tasks relevant to strategic success.
3. AGILITY
Businesses with linear and mechanical processes that were suitable for one mode of operation, such as maximising economies of scale, will seem slow in the digital age. SAP S/4HANA Cloud provides organizations with a more organic platform, the very different make-up of this model facilitates rapid and easier evolution.
In the past even changes like adapting a department to a new strategy were only possible through effort and deep involvement of many people, draining resources and slowing reactions.
Now, with the digitized core, processes, reports, patterns or alerts, can be adopted on the fly, on any device. As a result employees can move much faster because they have instant (and accurate) access to information with which to make decisions.
Experience SAP S/4HANA Cloud with Knack Systems
The convenience is present to completely change business processes and bring digital transformation to a successful conclusion for your business with additional automation and actual-time clarity. Our SAP S/4HANA, SAP HANA, and other business services and solutions devote effort to these valuable requirements and more. Allow us to demonstrate this to you today!