ECC
CRM
TPM
MDF
MRM
SCM
BCM
Knack Systems helps businesses achieve the goals of rapid and cost-effective transformation and optimization leveraging the best practices offered by the SAP suite of solutions. Building on our core capabilities in Order-To-Cash and supply chain, today we bring together our knowledge of business processes across multiple industries and in-depth understanding of the functionality offered by the SAP solutions to demo, evaluate, upgrade, implement and manage the SAP ECC and extended SAP suite of products and applications for our customers.
Benefits
With a service portfolio, that offers either a dedicated or a shared service model, companies can optimize and extend SAP systems leveraging Knack Systems' skills and services across the project life-cycle. To meet the needs of mid-size to large customers, Knack Systems brings both a rapid deployment as well as the standard ASAP methodology approach to align with the project objectives. In addition, a 'pay as you use' model gives customers much better control over their SAP management costs.
Knack Systems' core SAP services include the following
SAP Upgrade:


Stay up to date with the latest functionality and technology through Knack Systems' SAP upgrade services spanning upgrades to SAP ECC 6.0 and Unicode Conversion (UC)

Custom Development:


Maximize the value of your investments and meet specific business goals with custom developed solutions on your existing SAP platforms

Implementation:


Get high quality SAP implementation roll-outs on-time, within budgets, and across geographies with Knack Systems' proven rollout and implementation methodology

SAP Support and Maintenance:


Shared services support lets you leverage a global delivery model that helps to maintain and enhance SAP applications by optimizing delivery time, quality, and cost
Organizations today more than ever are trying to find out where their prospects and customers are; what are their buying patterns or what are they saying – good, bad or neutral – about them. Organizations are then trying to create various personalized and dynamic marketing programs to engage these prospects.
They are trying to get a 3600 view of their prospects and customers and then providing a consistent engagement across all the channels – be it the web, retail, mobile, social or the direct channel. An understanding of the impact that business practices have on customer acquisition and retention is imperative for companies to stride ahead and achieve success. By helping organizations understand, engage and delight their customers better by leveraging SAP CRM, Knack Systems helps position them as leaders in a dynamic business scenario where change is the name of the game.
Benefits
An association with SAP CRM right since its inception has seen Knack Systems emerge as one of the world's leading SAP CRM services provider with expertise in leveraging innovative methodologies and toolkits, experienced consulting teams, and global delivery models.
In addition to our experienced team members, Knack Systems is also set apart by its Center of Excellence (CoE) for POCs, Prototyping, Training, and R&D, where experienced CRM Consultants create new tools and accelerators for SAP CRM. The Rapid Upgrade Framework for SAP CRM and SAP CRM Test Drive Program, SAP CRM extension into Marketo, SilverPop, ExactTarget for marketing automation are examples of indigenous solutions created to help organizations minimize their overall cost of ownership of the SAP CRM solution. Knack Systems also has strong partnerships with Marketo, StrongView, and CoreMedia for extending the SAP CRM solution.
Companies working with Knack Systems benefits in many ways including:
Partner with experience in sales, service, and marketing
Expertise of one of SAP's Co-Innovation, Testing and Services partner
Pre-Configured 'Rapid Deployment' SAP CRM solution for sales, service and marketing
Benefits of a well developed Center of Excellence (CoE) and customer oriented initiatives
Established global delivery management model that allows risk management and better return on investment
Domain expertise in customer relationship across multiple industry
Application of best practices for accelerated SAP CRM implementation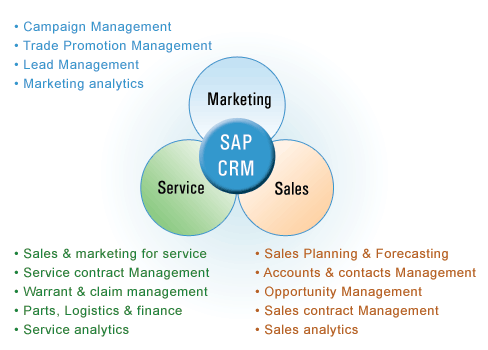 Knack Systems' CRM Services include the following:
SAP CRM implementation including design, development and deployment across key functional areas like SAP CRM sales, service, and marketing, call center, e-commerce, partner channel, mobile and field service.
SAP CRM upgrades
SAP CRM localization and global rolls-outs
SAP CRM shared service or dedicated application support
SAP CRM custom development
Owing to the growth in retail customer base, trade promotion spend in the consumer products industry now represents more than 50% of the overall marketing spend.
It has become a strategic imperative to use trade funds wisely. But with the lack of integrated transaction and spend management systems that give comprehensive insights and predictions for past and future promotions respectively, managing the sales process gets challenging. The net result is ineffective promotions, and dissatisfied consumers who are unaware of available promotions.
With SAP TPM, Knack Systems helps consumer goods companies address these challenges via an integrated suite of solutions that enables coordinated and integrated business planning for the sales people as well as the internal departments the coordinate with viz. marketing, supply chain and finance.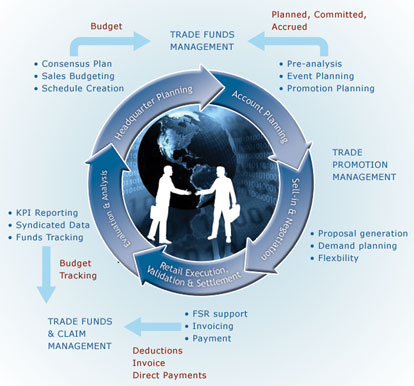 SAP TPM addresses the following basic questions with ease to make integrated business planning possible.
How are the funds being spent?
What is the most effective use of the funds?
What is the uplift from a trade promotion?
Which customers perform the best?
What is the return on investment?
Which programs provide the most value?
Benefits
Matured Center of Excellence(CoE) for SAP TPM leveraged to develop prototype, business case and training our internal workforce
Experienced SAP TPM consultants and overall integrated business planning experience with SAP ECC, BI/BPS and SAP CRM
Our unique 'Mini-Package' approach to SAP TPM implementation
Cost effective global delivery model
Implementation of SAP TPM best practices evolved over years of experience
Use of tried and tested templates, tools and functionalities
Reduced total cost of ownership and faster return on investment(ROI)
Well developed CoE for SAP TPM
Knack Systems' TPM services include the following :
With SAP TPM implementation and support services from Knack Systems, you can strategize, identify, plan, and evaluate trade promotions in a focused, precise, consistent manner to boost sales volumes and profits.
With an experience of over six years with SAP TPM, and an extensive knowledge of SAP TPM versions 5.0, 6.0 and 7.0., Knack Systems' capabilities span the following services:
TPM solution evaluation
SAP TPM Test Drive Program
SAP TPM Demo and Prototype services
SAP TPM Rapid Deployment solution
SAP TPM Implementation services
SAP TPM Enhancement and Application Support Services
MDF or Market Development Funds are monetary assistance provided by manufacturers (brand owners) to help a partner/reseller/distributor to market the manufacturer's brand. MDF funds are disbursed based on the execution of mutually agreed to marketing activities by the indirect sales partner.
Knack Systems' practice for MDF solutions and services help to manage and allocate funds to partners better, provide partners a self-service for requesting and claiming funds, and ensure legal compliance of funding practices.
An effective MDF solution lets customers target funds for demand generation activities that increase sales and generate leads and business opportunities. It also helps improved transparency for planning the funds and settling claims. Combining insights from integrated business planning software like SAP CRM, SAP TPM, and others along with MDF services is the right step ahead in ensuring an extended marketing reach by supporting the right channel partners to carry out the right activities.
During a SAP CRM – MDF implementation project following features can be deployed and enabled:
Managing MDF funds, programs and budgets
Accrual settings
Managing MDF programs with channel partners
MDF claims
Funds Management
Financial accrual management
Claim settlement
Integrate seamlessly with SAP ERP – payout and controlling
Knack Systems SAP CRM-MDF Services are as follows:
SAP CRM-MDF Demo and Prototype services
SAP CRM-MDF Implementation services
SAP CRM-MDF Enhancement and Application Support Services
Conduct workshops and Blueprinting
Business requirement documentation
Migration Strategy and migration related development
Enhancements and customization support
Comprehensive end user training
Marketing is a function that is critical to success. Knack Systems' practice for SAP MRM (Marketing Resource Management) solution allows companies to efficiently plan and manage marketing efforts to achieve organizational goals and objectives, as directed by their integrated business planning.
Benefits
Knack Systems' experience with SAP CRM Marketing is enhanced by its 'Co-Innovation' partnership with SAP. An investment in the COE for MRM helps customers to make relevant decisions across the value chain, for an early project adoption. The MRM solution gives a holistic and complete view of the marketing functions in the areas of planning, spend management, analysis and operations.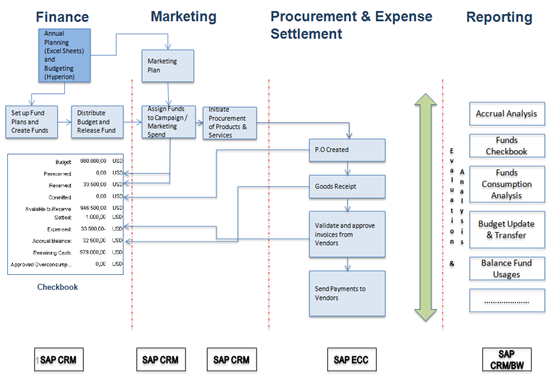 Automate and helps streamline key marketing processes
Manage marketing activities more effectively using a common platform across brands and regions
Helps to gain visibility into the performance and spending of marketing activities across the business
Optimize marketing investments based on the insights to past performance
Global marketing spend can be aligned with corporate goals
Knack Systems' SAP MRM Services include the following:
SAP CRM-MRM solution evaluation
SAP CRM-MRM Test Drive Program
SAP CRM-MRM Demo and Prototype services
SAP CRM-MRM Implementation services
SAP CRM-MRM Enhancement and Application Support Services
Supply Chain Management (SCM) solutions enable collaboration, planning, execution, and coordination across the organization's value chain and ensure efficient and effective performance in a constantly changing business environment.
SCM is an indispensable aspect of integrated business planning and SCM solutions combine technological advances with the expertise of professionals experienced in warehouse management, transportation planning, etc. to ease the following supply chain bottlenecks.
High logistics handling and freight cost
Inaccurate and delayed customer shipments resulting in loss of revenue
Variable order quantities forcing loose and case picks in warehouse
Traceability of shipped goods
Handling issues with inventory management and service level
Excessively long order-related cycle times
Inability to have on-time and complete customer order fulfillment
Benefits
Improved on-time and complete customer order fulfillment
Reduction in replenishment order cycle time
Reductions in inventory, including an increase in turns per month for finished goods inventory
Reduction in forecast error
Enhanced customer service
Knack Systems' services for SCM include the following:
Extensive experience in implementing the complete life cycle of the SAP SCM application
Consultants with over ten years of experience in providing logistics solutions to Fortune 1000 companies
Expertise in warehouse management including handling unit management and latest SAP offerings in the area of SCM extended warehouse management
Expertise in interfacing SAP WM with automated picking systems like pick light and A-Frame systems
Highly experienced team of consultants specializing in interfacing SAP WM with sortation and conveyor systems
Expertise in SAP R/3 Transportation Management System (TMS) and interfacing SAP with third party transportation management systems
Highly experienced and cost effective global delivery model
Numerous client references in US, Europe and Asia
Well developed Center of Excellence (COE) for R&D and better CRM services
The SAP Business Communication Management (BCM) is designed to be a contact center solution that helps organizations to rapidly reach performance, quality, and cost targets; especially in distributed operations. Knack Systems highly recommends organizations evaluating CTI solutions, to consider SAP BCM as a comprehensive solution that meets all functional requirements. SAP BCM comes with additional benefits that include stability, low cost of implementation, availability of service support, and the reduced risk of integration with the interaction center of SAP CRM.
Knack Systems has an extensive experience in CTI (Computer Telephony Integration) projects with SAP CRM as well as non-SAP products. Knack Systems has always focused on early adoption of new technological advances, and this strategy holds true for the SAP BCM solution as well.
Some of the key SAP BCM features are as follows: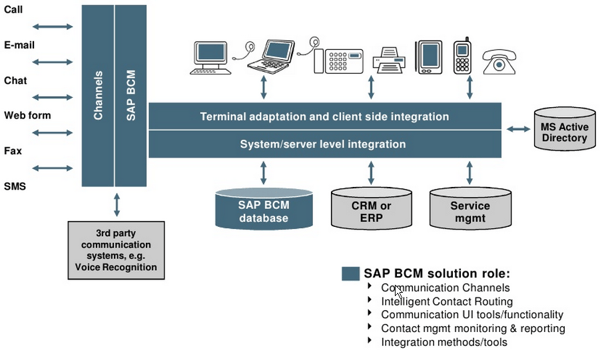 Multi tenancy support
Web service based interface to BCM online statistics (OMI – Online Monitoring Interface). This helps to create a customized real time view, even in third party applications.
.Net based client side integration interface, to create customized soft phones
Web service based interface to contact control or event data. This enables BCM to integrate third party applications with BCM soft phones as well as include chat channel events and presence data information to Online Integration Interface messaging
HTTPS interface for SMS messages; that enables customers to integrate BCM with operator SMS gateway
Knack Systems' BCM Services include the following:
SAP BCM solution evaluation
SAP BCM Test Drive Program
SAP BCM Demo and Prototype services
SAP BCM Implementation services
SAP BCM Enhancement and Application Support Services