Mobility Services with SAP Fiori & Neptune Expertise
Knack Systems is a premium SAP consulting partner and Neptune Software partner and brings extensive experience in deploying mobile applications across web and mobile. Knack Systems is an accomplished SAP Fiori expert that can partner with you to enable your Fiori go-live in less than four weeks. Our Neptune software integration helps enterprises deliver impressive user experiences for your SAP applications across mobile and desktop environments.
SAP Fiori is the answer to the acute demand for augmented end-user experience combined with the urgent need for mobility to realize business value. Knack Systems' Neptune software integration allows Fiori implementation in days. In order to help our customers set up SAP Fiori mobile apps for their routine business tasks and give them the ability to utilize a more customized user experience, Knack Systems leverages its proficiency and background in deploying SAP Fiori systems and configuring apps. Knack Systems' Neptune software integration is backwards compatible on any database through R/3 4.7, with a minimum requirement of NetWeaver 7.0. Our SAP Fiori implementation assures you of true hybrid apps – those that will work on browsers as well as native apps on all mobile platforms with a single development push.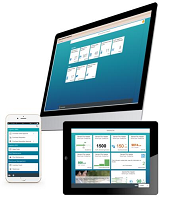 With extensive expertise in the Netweaver technology on which SAP Fiori runs, the Knack Systems team implements the Fiori architecture in organizations across industries, allowing coherent transferring of applications for mobile compliance. Our implementations can help your employees and executives have the power of Fiori across Android, iOS, and Windows platforms, with screen augmentation capabilities for a complete array of over 700 business functions. Knack Systems' Neptune software integrations can help you run Fiori applications on the SAP Fiori Launchpad. Our SAP Fiori implementation provides you with Fiori applications that are robust, flexible, and easy to customize.
Knack Systems' team of Fiori experts enables the best possible development and integration of SAP Fiori apps in your organization. Our Neptune software integration covers most of the transactions for ERP with or without a HANA database, and all of the applications enabled are backward compatible to NW7.0. Knack Systems' SAP Fiori implementation is available as both perpetual and subscription models.
The types of apps we can develop for you include:
Transaction apps – To perform business and monetary tasks
Analytics apps – To provide profound insights to analyze the efficiency of diverse business roles
Fact Sheets – To disclose accurate data with principal parameters
Go "beyond mobile" with an integrated mobility solution
Through integration with Neptune Software, you can be assured of a User Experience Platform that is the singular answer for SAP Fiori UX to directly benefit from SAP's own ABAP source code. This aids enterprises in augmenting the adoption of their extant SAP systems and curtailing the necessity for integration, allowing them to deliver SAP Fiori applications promptly and economically across web and mobile. Knack Systems' Neptune software integration can enable Fiori applications to transition from non-HANA databases to ECC on HANA, and all the way to S/4HANA. Our SAP Fiori implementation provides you with a robust offline functionality made available off-the-shelf.
With Neptune, Knack Systems brings to life the concept of "beyond mobile" – arming you with the right tools to work from any location, irrespective of whether your team is online or offline.
Why Knack Systems
We work as one with our customers and help them decipher the right combination of solutions that can best suit your business configuration (SFA)
Knack Systems is a Premium Partner of SAP with a focus on Customer Management, which includes Cloud Solutions, Hybrid Solutions, E-commerce, and Analytics
We have been awarded the SAP Recognized Expertise® designation for our competence in the area of Sales, Service and Marketing Cloud Solutions within the United States
We provide end-to-end services in SAP transformation programs, including solution roadmaps, implementations, integration services, roll-outs, support, upgrades, testing, and package evaluations