Companies today want to rapidly deploy applications to enable their sales, service and marketing teams to engage easily and effectively with their customers. Knack Systems has always aimed at being a front runner in providing customers with latest, innovative solutions to keep them future ready. With the SAP C/4HANA solution, Knack Systems has taken a step ahead in the right direction, to enhance its competency in the cloud solution and cloud integration space. Knack Systems offers easy-to-use cloud-based SAP software solutions that give their users access to new methods and forms of project management that make doing business a lot easier, and all from behind a computer screen or a mobile device.
Knack Systems' early investments in the SAP CX (Customer Experience) space have resulted in pre-packaged service offerings that are rapidly deployable within 6-12 weeks. These fixed price offerings combined with our experienced consultants allow our customers to start benefiting from SAP CX in a fast and easy manner without waiting for months and without a huge price tag. SAP CX offers real-time and predictive analytics with UX designed user interface designed for the Google-like searches of today.
Knack Systems-implemented Cloud CRM solutions allow for overseeing of projects in real time and keeping track of all the sales and results. SAP C/4HANA enables sales professionals to collaborate with their team, engage better with their business network, and make informed decisions right from their tablet. SAP C/4HANA gets enhanced and updated on a quarterly schedule.
The solution designed by SAP specifically for Customer Experience, namely C/4HANA, ties together machine learning and microservices to rewrite the rules of CRM. This empowers you to drive real-time, intelligent customer engagements across sales, customer service, marketing, and commerce.
SAP S/4HANA – on the other hand – is an enterprise management platform deployed on the cloud, commissioned to empower cohesive business management across all important end-to-end processes at scale. It is also a system with organized end-to-end processes, which endows businesses by interlinking departments in smart ways across the entire organization.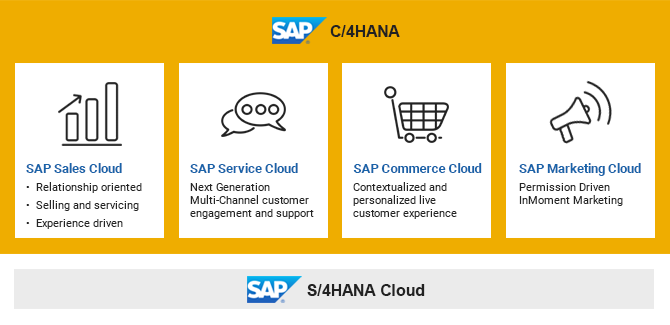 Knack Systems' SAP software solutions allow users to keep in touch with the customer base and make adjustments in response to customer feedback. Designed for marketing, sales, and service, and commerce organizations, SAP software solutions on the cloud constitute a powerful and effective combination of the following solutions and their key features:
Sales Cloud
Sales professionals get a consumer-grade user experience on the homepage
One of the few CRM Cloud solutions that simplifies seeing who is being called and when and also keeps track of scheduled calls, emails, and more to ensure that the customer doesn't get passed over
Dashboard gives sales professionals a 360-degree view of their customers, to complete the sales cycle (lead to cash)
Equipped with an easy to use, drag and drop, interface
One of the few CRM Cloud solutions that automatically examines the best times to communicate with certain clients based on historical data and automatically appropriates data and times and incorporates them into schedules
Offline capabilities for iPad app integration allow sales professionals to carry out effective customer engagements
Sales assistant provides guided selling process at every stage of the sale
The Sales Cloud CRM for SaaS enables enhanced collaboration on contacts, appointments, tasks through hassle-free integration with MS Outlook and Lotus Notes
Service Cloud
Self-service web-portal
Interface for Computer-Telephony Integration (CTI)
The Service Cloud CRM for SaaS comes with pre-built integration with social media analytics tools, to assist proactive customer interactions
Client Relations and Customer Service professionals can access ticket status, escalations, and key service metrics on-the-go to enable better CRM services
Easy-to-access product registration and warranty information, to help service agents with up-selling & cross-selling
Commerce Cloud
Run your digital commerce storefronts with an all-inclusive solution
Sell products, services, and subscriptions
Leverage autoscaling to meet customer demand
A thoroughly functional omni-channel commerce solution implemented in the cloud for diminished costs and reduced operational support so that you can focus on your core business
Marketing Cloud
A solution designed for marketers to deliver customized brand experiences with smart marketing
Forges trust with your customers by affirming that their data is secure
A superior platform for businesses seeking multichannel marketing automation and analytics that empower them to bring into being a genuinely customized experience with purposeful and vital insight to their customers' distinctive journeys and discover ahead-of-the-field ways to serve them with strong content and offerings
Gain a unique, integrated view of your customer, real-time insights into their customer journey, machine learning faculties, and more.
S/4HANA Cloud
The strong proficiencies and intuitive workflows within SAP S/4HANA Cloud will boost your performance to newer heights
SAP S/4HANA Cloud can reconstruct all crucial enterprise functions from finance and supply chain to sales and customer service
SAP S/4HANA delivers a platform compatible to the demands of the Intelligent Enterprise in a non-stop, digitally-linked, and data-driven world.
S/4HANA offers users with a sturdy digital foundation for making available at a fast pace fresh solutions and services to meet dynamic customer requirements
SAP C/4HANA helps organizations bring sales, service, commerce, and marketing engagement together in a comprehensive SaaS CRM system. Businesses can take advantage of pre-packaged integration scenarios to combine SAP C/4HANA with cloud and on-premise SAP and non-SAP systems to offer a constant, appropriate, and world-class omni-channel experience.
Delivering an enterprise-wide planning and decision support system such as SAP S/4HANA with elevated levels of automation is observed to be a top priority for managing ERP in enterprises in the future. Among the key drivers among businesses investing in SAP S/4HANA are boosts in total cost of ownership, critical increment in process automation, and strong end-to-end processes with shared business objects and consistency.