Streamline sales and service processes with electronic signature software integration with
SAP C/4HANA
Attain more competence with electronic signature software
Your business can now develop and dispatch documents requesting an electronic signature from within the sales quote in SAP Hybris Cloud for Sales. E-Signatures offer your customers and team members the capability to sign electronic documents from just about anywhere.
Once the transaction has been concluded, the signed documents can be sent back and stocked for a comprehensive digital experience through DocuSign integration. Automatic emails inform the signatory when their signatures are needed.
Key Benefits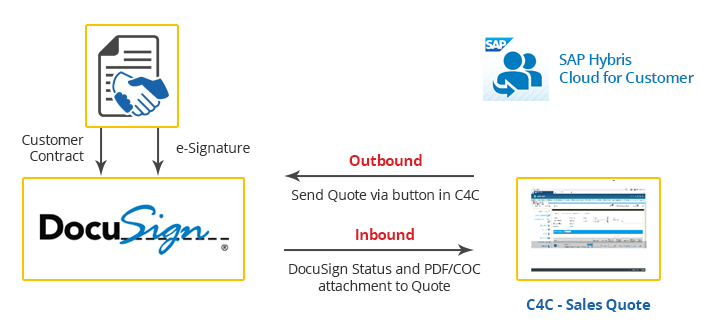 Expedite deal closure:
Remove the want to print and dispatch urgent documents by sending and getting them signed digitally through DocuSign eSignature
With DocuSign integration, decision makers can examine, authorize, and sign quotes instantly – anyplace, any moment, on any device
Utilize DocuSign eSignature straight from inside the SAP tools that sales professionals employ frequently
Consolidate processes:
Drag and drop tags to documents for the customer to close, removing unfinished or "Not-In-Good-Order" (NIGO) documents
With DocuSign integration, documents are directed to the appropriate members, with built-in reminders
Extra documents and signatories can be supplemented within DocuSign eSignature
Boost visibility and conformity:
Clarity into and command over where contracts/quotes are being processed straight from SAP Hybris Sales Cloud
With DocuSign integration, audit tracking status and alerts are sent to each signatory when a contract is revised or eliminated
Each signed agreement arrives in its entirety with a legally allowable audit tracking that displays who signed what, at what time, and at which location (when geo-location is authorized by the signatory)
At the touch of a button, documents are given for signature from any PC, laptop, or mobile device. With DocuSign integration, teams no longer have to travel to branches. There's no need to maintain records in heaps of paper. Furthermore, when businesses combine SAP Hybris Cloud for Customer with DocuSign, data recorded and processed in Cloud for Customer is automatically and safely uploaded to DocuSign. With DocuSign integration, once signatures have been made wherever required, the document is automatically sent back to Cloud for Customer for additional processing or to be filed.